National camp for pugilists does not have a physio, campers to travel long distance for medical attention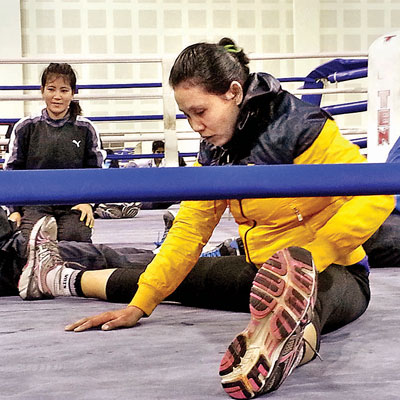 As Congress vice-president Rahul Gandhi was launching UPA government's Rs4,500-crore mega sports training scheme Rajiv Khel Abhiyan here at the Jawaharlal Nehru Stadium, a few kilometres away were some of India's best women boxers finding it hard to even scrimp Rs45,000 a month to pay the physiotherapist to help them overcome injuries.
This is the sorry plight of these champion female boxers. India's top woman boxer Sarita Devi, five-time Asian Championship gold medallist, needs a physio urgently to take care of her injured shoulder. Sarita, along with Mary Kom, is one among the top names of Indian women boxers and is currently preparing for this year's Commonwealth and Asian Games.
It was during the course of the camp that Sarita suffered a minor shoulder injury for which she was asked to undergo physiotherapy by the camp doctor for two weeks. There are five other boxers in the camp who have been advised physiotherapy to overcome different injuries. But since there is no full-time physio attached with the national camp, Sarita and others have been travelling for over two hours every day from Indira Gandhi Indoor Stadium to Safdarjung Hospital for the necessary treatment.
Interestingly, Sports Authority of India has a physio deputed for this stadium but as her job timings are like any other government office, she is of no use to these women boxers who train after five in the evening.
"It takes a lot of time because of traffic here. It would have been really nice if a full-time physio is made available for us because it's an injury-prone game. The one SAI physio that comes here leaves even before our camp starts after 5 pm in the evening. What's the use," Sarita told dna on the sidelines of the camp.
Keeping in mind that sports ministry is paying huge sums of money to conduct this national camp for over two months, why a full-time physio has not been made available is difficult to fathom.
"I'm only coming to know about this problem for the first time," was how Director General SAI Jiji Thomson reacted to this paper.
Whereas, the coaches and Indian Amateur Boxing Federation officials have repeatedly said that many a time "request for physio has been forwarded to the SAI".
"I don't see any reason to not appoint any physio for the camp. The moment I receive a request from camp officials or IABF, there would be an immediate action," promised Thomson.
It is important to mention here that women boxers were camping in NIS, Patiala, before shifting to Delhi. "It's a common practice that every contact game camp has a full-time doctor and a physio attached to it because of the nature of the sport. All SAI officials know this for years and it's difficult to understand why they need to be reminded time and again," a boxing coach said on condition of anonymity.
Hopefully, the problem would be resolved soon as India rely heavily on their boxers to bring glory to the country from international events!