Experts opine the open-chested stance of these batsmen can be effective on bouncy and fast pitches but not so much when ball swings and moves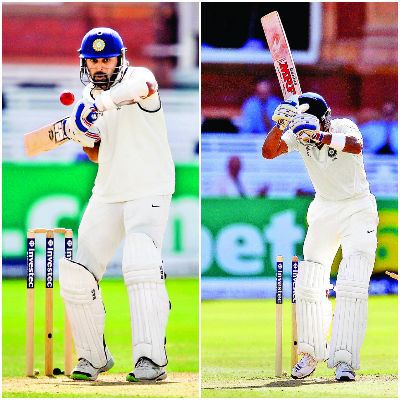 What is it that has clicked for Murali Vijay and Ajinkya Rahane in the first two Tests in England and not for Virat Kohli and Shikhar Dhawan?
It is unusual for a batsman of the calibre of Kohli, who has a Test century each in Australia, New Zealand and South Africa, to have a combined tally of just 34 in four innings in England including a first-ball duck in the second innings at Lord's. Dhawan, too, averages 19.75 with a best of 31.
On the other hand, Vijay leads the batting averages for both the sides with 317 runs at an average of 79.25 with one century and two half-centuries. Rahane's technically sound batting fetched him a century at the home of cricket, Lord's.
Former India all-rounder Manoj Prabhakar made an observation on Kohli's batting. "The problem is when the ball moves, Kohli is really tested. Kohli has been playing on fast and bouncy tracks and can be a very good attacking batsman. But he has to change his style of playing against the moving ball.
"You cannot be open-chested while batting against swing bowlers. You should know how to leave the ball. Same with Dhawan. He should know how to leave the ball. On the other hand, it was class batting by Murali Vijay.
"Kohli and Dhawan should be more side-on in their stance," Prabhakar told dna.
Analysing the ways Dhawan and Kohli have been dismissed in the series so far, the left-hander was caught in the region behind the stumps in the first innings of both the Tests, done in by the moving delivery.
Kohli, too, fell to catches in the same region twice while he was done in by a Liam Plunkett beauty when the right-hander shouldered arms for a first-ball duck at Lord's.
Noted coaches, technically-sound batsmen in their playing days, Pravin Amre and Chandrakant Pandit did not want to comment particularly on Kohli's and Dhawan's form in England. But they gave an insight to the right stance that would work in different conditions including in England.
Amre said: "It is the preparation for a particular tour that is important. Cricket is always a sideways game. Basically, it is the positioning of the front shoulder that is important in batting."
Pandit elaborated: "Usually, an open-chested batsman is unable to judge the line of the ball. When the ball moves, he is unable to get into position. He may throw his bat or play across the line. Such batsmen will have general view of where the ball comes. Side-on batsmen will have a specific view to judge the line."
Pandit explained that batsmen like Sunil Gavaskar, Rahul Dravid, VVS Laxman and Sachin Tendulkar were side-on batsmen and technically strong.
"Even if they went through a poor run, they returned to form quickly. Side-on batsmen leave the ball outside the off-stump well. It was just the head moving front and back," the former India wicketkeeper-batsman Pandit said.
Pandit gave the examples of open-chested batting greats Javed Miandad and Mohinder Amarnath who still succeeded against the moving deliveries "because they were mentally strong".
"Miandad did not have technique. He was open-chested as well. Yet, he played all the fast bowlers in the world with determination. He was fearless against the quickest of bowlers. Amarnath went through a lean patch of five ducks in six innings against the West Indies. Still, he came back stronger.
"What I believe is those who do not worry too much about technique will bounce back stronger sooner because they are mentally tough."
Pandit hoped that Kohli returned to form at the earliest "as India needs him and we depend on him to score runs". Pandit also believed that Kohli "was mentally tough and that he will not worry too much about technique."
Asked what he was impressed about Vijay, Pandit said: "He is a technically-sound player and plays his shots in front of the wicket. Vijay likes to push the ball well. And, he has a side-on stance."
On Cheteshwar Pujara, who has been getting starts but not really gone on to make it big on this tour, Pandit said: "Maybe, Pujara is not used to the moving ball because in India, the ball does not do too much on all the days. If somebody is playing in those conditions more often, shot selections come. Having said that, getting out after good starts does not mean he is bad. He has the skill to handle the moving ball."
Indian batsmen in England
Murali Viyay: 146 & 52, 24 & 95
Shikhar Dhawan: 12 & 29, 7 & 31
Cheteshwar Pujara: 38 & 55, 28 & 43
Virat Kohli 1 & 8, 25 & 0
Ajinkya Rahane: 32 & 24, 103 & 5