At a time when ODI squad is losing series after series, Indian team management mocks selection committee by keeping Saurashtra batsman out of XI.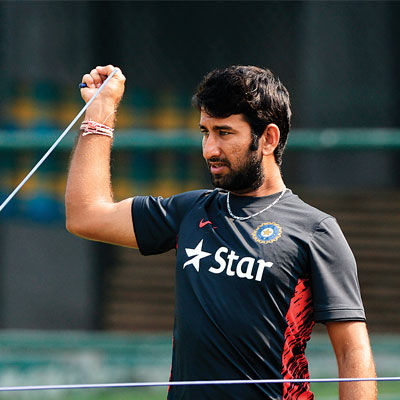 It has been over three months since India won a meaningful game of cricket (apologies to Bangladesh and Afghanistan), but the team management continues to baffle us with its policies. If nothing, MS Dhoni and his deputy/eventual successor/close confidante, Virat Kohli, have proved beyond doubt that there is no sync between the team and the selection committee. It's time Sandeep Patil took off his fancy shades, looked the captain(s) in the eye and sorted out the mess. Or he could keep them on and look elsewhere.
There is a reason why Patil and his colleagues included Cheteshwar Pujara in the Asia Cup squad. Series defeats in South Africa and New Zealand, where India will play a few matches in next year's World Cup, prompted the "gagged" (that's no such clause, by the way) wise men to give Pujara a look-in. India could do well with some solidity in the middle order and there is no better batsman than the soft-spoken Saurashtra batsman to take up that role. Sadly, the man who averages nearly 55 in List A cricket (domestic one-dayers) runs the risk of being branded a "Test specialist" like the great VVS Laxman and for some time even Rahul Dravid.
But Dhoni and Kohli obviously know better. They are trying to tell us that players like Rohit Sharma, Ajinkya Rahane, Ambati Rayudu and Dinesh Karthik are more reliable than Pujara. The numbers, and results, though, suggest otherwise (see box).
Former India skipper Sunil Gavaskar was the first to express shock over the team's decision to not field Pujara in the dead rubber against Afghanistan in Dhaka on Wednesday. "Very hard to understand, to be honest with you, it's baffling," Gavaskar said on TV. "Some of the players have been playing non-stop, they need a bit of a break before the World T20 starts, the second thing is if you are not going to give the reserve players a chance, then when are they going to play."
Gavaskar, who has been taking Team India to task these days ("powermouse" was a gem), didn't mince words. "Are you worried that Pujara will score runs so that your favourites who are not consistent might have to make way?" he asked. "Are you worried that Pandey will pick wickets, and again some of your favourite bowlers might not be certain of a place in the team, what are you worried about? The only thing that comes to my mind is that there is that worry and there's probably a fear that if these guys do well, what happens to our favourites in the team. This is what breeds complacency, guys know, kuch bhi karoon, team main hoon (whatever I do, I'm in the team)."
Seasoned cricket administrator Niranjan Shah also slammed the Patil and the team management. "How can you field an unchanged XI in a dead rubber? This is illogical. The guys who have failed to help the team qualify for the final continue to play. The captain and chief selector are making a mockery of the whole selection process," fumed Shah, who served as secretary and vice president of the BCCI before falling out of favour with the current dispensation. Shah, however, continues to be the supremo of Saurashtra Cricket Association which Pujara represents.
"Pujara is a batsman of stature. You can't treat him like this. The chief selector must take up this issue with the captain and also the BCCI president. How can a player like Rohit Sharma be given so many chances? And on Wednesday, he batted at No. 3! How bizarre is that?" Shah added.
Kiran More, the former India wicketkeeper who served as chief selector in the Chappell era, also pointed out the "communication gap" factor. "It's obvious. Something is wrong. You can't keep Pujara out when the others are failing. Also, these days a couple of selectors are supposed to travel with the team. So there has to be better coordination," More said.