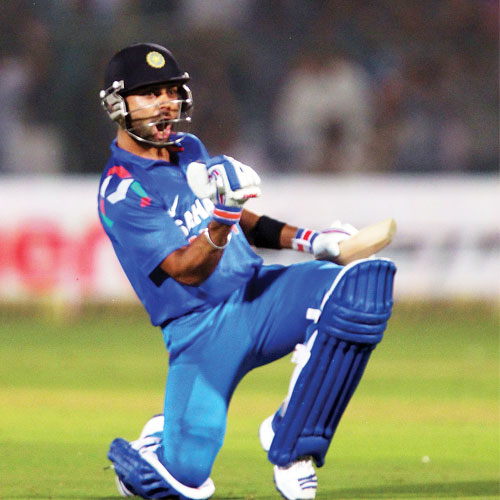 It's time to announce the dna Indian Sportsperson Of The Year 2013. And the winner is... Virat Kohli. Yes, the Indian cricket's poster boy has got a lion's share of readers' votes (58%) in a week-long poll.
Kohli beat the likes of tennis legend Leander Paes (16%), badminton star PV Sindhu (14%), cricketer Shikhar Dhawan (9%), and world paralympic bronze-medallist Devendra Jhajharia (3%).
The 25-year-old cricketer has been the most consistent performer in the Indian team in 2013 — both in ODIs as well as Tests. Kohli, who was part of India's tour of South Africa, could not be reached for his reaction as the team travelled back home later in the day. However, his childhood coach Rajkumar Sharma thanked dna and its readers for voting for his ward.
"I am very happy for him (Kohli) that he won the dna poll. Virat has done very well in Tests and one-day cricket this year and hope he continues to do well. He deserves all the recognition. dna is a highly recognised newspaper and I thank them and the readers for voting Virat as the Indian Sportsperson of the year. It is one more achievement for Virat this year," he said.
Kohli has been the most prolific batsman in the circuit for some time. He has impressed with his maturity and quick learning. He is bold and never afraid to take on any kind of attack. That is what sets him apart him from his contemporaries.
The year 2013 was one of the best for this Delhi lad. He scored 1,268 runs in 34 ODIs including four centuries and seven half centuries at an average close to 53.
In Tests, too, he was not far behind. From eight matches, he accumulated 616 runs at an average of 56 including two hundreds and three 50s. However, the best part of the year for him would be the promotion in batting order to the hallowed No. 4 slot that was once occupied by none other than Sachin Tendulkar.
Kohli has, in two matches, excelled in that position. An innings of 119 followed by 96 in the first Test against South Africa saw India dominate the hosts. However, the match ended in a draw.
In the one-dayers, Kohli has bailed India out of trouble time and again.
Not only that, the youngster also equalled the great West Indian batsman Viv Richard's record, becoming the fastest to score 5,000 ODI runs. Kohli reached the landmark in his 114th innings, the same as Richards, when he scored 86 for India in the first ODI against West Indies in Kochi.
Kohli has not restricted himself to the role of batsman. He showed his leaderships skills, too, when he was rewarded with captaincy by the selectors for the tour of Zimbabwe. India won the five-match series 5-0.
The superstar of Indian cricket not only leads the cricket field, but is also one of the sought after stars of the advertising world. He endorses close to 15 brands and reportedly demands Rs 3.5 crore to Rs 5 crore.
Sharma added, "Virat is a self-made cricketer. He has worked very hard to reach where he has now. A quick learner, dedicated and focused boy who is always concerned about his cricket."
Sharma said this is Kohli's best phase. "He has done very well. This is the best phase. He is playing very good cricket. He has tremendous potential and temperament. He has been excellent in ODIs and I want him to do more in Test cricket," he said.
"I want him to keep performing like this and keep working hard so that he can achieve greater goals. I told him that is my dream to see him as a very successful Test batsman and it is also his dream to be the best," Sharma added.