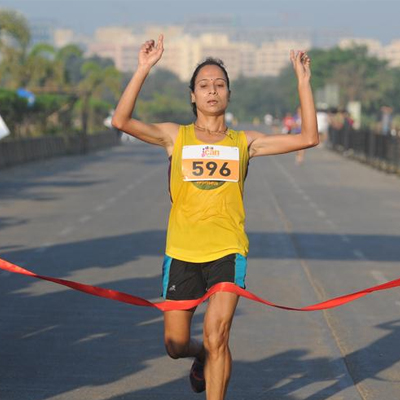 If there was anyone who personified the 'dna I can' women's half-marathon spirit on Sunday, it was Neelam Rajput.
The 24-year-old, who missed the top spot in last year's marathon, had just one goal coming into the third edition of the run – to win it. She did just that, and how!
Rajput stormed past the finish line in 01::19:47s, a cool three minutes faster than second-place Supriya Patil (01::22:46s), and almost eight minutes before the third, Rijawana Kakeri (01::27:37s).
Rajput, who hails from Uran in the Raigad district, broke away from her competitors as early as in the fifth km, and never looked back. She kept her pace till the very end, and although she missed out on her personal best timing of 01::18:00s, she was elated that she achieved what she couldn't last year.
"After finishing second last year, I was desperate to win it this time," Rajput said. "I trained hard for this run with the goal of coming first, and I'm very happy I could achieve that."
She had the odd distractions during the run with the street dogs giving her a scare a few times. But she had absolutely no interest in the water stations on the way, and she had the first sip of water only after finishing the race. "It hurts my stomach," she said. "I have trained myself to finish the run without having any water in between, so it wasn't so tough."
Rajput has made it a habit to win half-marathons lately, with the Goa, Surat, Vadodara, Satara and Pune titles all in her pocket over the last two months. She has now trained her eyes on the Asian Games, and if she does manage to qualify, wants to win a medal in the track event.
It's no surprise that she's a champion, for her husband Sachin trains with her every day, and is the guiding force behind her resurgence since their marriage in 2010. Before that, it was her father, Maruti Kadam, an armyman, who encouraged her to run.
"I've been very lucky," she said. "First it was my father, and now it's my husband. It's only because of the support of my family that I've been able to achieve what I have. Marriage hasn't changed anything for me, nor will it ever," she added.
So what will she do with the Rs1 lakh prize money she grabbed with her win?
"Invest it on my diet," Rajput said. "I'll also buy good running shoes and track pants for my future events. And yes, I'll give a part of it to my family too."
Patil's in love with running
Patil, the runner-up, also hails from Uran. She's all of 22, and ran barefoot despite her coach's strong objections. "I feel free when I run barefoot," she said. The coach didn't agree.
But Patil has reasons to be proud of. Having won the 10km run last year, she decided to up the ante this time around after training hard with her coach, Dilip Patil, at Uran Gymkhana.
Daughter of a farmer, she is desperate for a job, not just for the money but to dedicate herself completely to running.
"I hope to find a job and run for them. I want to run for India too," she said. "But even if I don't get a job, I will continue running somehow. Yes, money is an issue, but not so much that it takes away my love for running."
Rest assured, Patil, much like Rajput, will be back next year, epitomising the same spirit.

Results (Top 3):
21km: 1. Neelam Rajput 01::19:47s, 2. Supriya Patil 01:22.46s, 3. Rijawana Kakeri 01:27.37
10km: 1. Heena Mali 42:17s, 2. Jyoti Punjabi 45:14s, 3. Nina Hamre 47:05s
5km: Snehal Shinde 23:16s, Priyanka Ingale 23:38s, Pranita Bandi 23:55s