Pakistan post first victory with 16-run win over Australia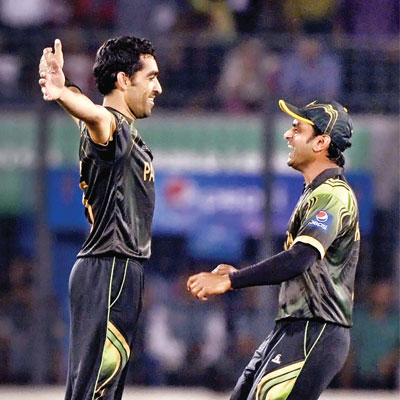 Pakistan's Umar Akmal, 23 years, and Australian Glen Maxwell, 25, are two young and daring batsmen known for their extraordinary talent. Both have similar batting styles and possess big hitting skills.
However, both have hardly shown their potential and the promise for their teams at the international stage. Until Sunday, that is.
At the Sher-e-Bangla Stadium, the duo put up a superb batting display for their respective sides. But it was Akmal's team that returned to the dressing room happy after defeating Australia by 16 runs to collect their first points in the competition.
Akmal cracked a 54-ball 94 that saw Pakistan post 191/5 while Maxwell's entertaining 33-ball 74 raised hopes of taking Australia past the line. However, with his dismissal fell Australia's chances as they lost wickets regularly, allowing Pakistan to come back into the game.
After watching Maxwell bat, Mumbai Indians might rue the fact that they did not use the 'Right to Match' to get back the stylish Victorian, who was in a murderous mood. The man was simply destructive and any ball that came in his range was whipped out of the park. He swept and drove convincingly and reached his half century in just 18 balls. Of his first 50 runs, he ran only a single, the rest coing in fours and six. Such was his impact that he thrashed Pakistani seamer Bilawal Bhatti for 30 runs in his first over.
Till Maxwell was there, Australia were on course. But, once he tried to hit Shahid Afridi across only to be caught by Ahmed Shehzad at mid-wicket with Australia needing another 66 from 50 deliveries, their downslide began. They managed another 49 runs only.
Earlier in Palistan's innings, Akmal was equally delightful. He began cautiously before becoming dangerous. He started his journey to 94 by slapping Nile Coulter-Nile to mid-on with a horizontal bat.
From there, he looked unstoppable, but Australia got a chance to get send him back when he heaved Coulter-Nile to deep square leg, where Brad Hogg failed to hold on to a tough offering.
The batsman from Lahore continued his assault and looked set for the tournament's first hundred but an aerial shot to long-on off Mitchel Starch was held by Maxwell. However, his punishing knock studded with four sixes and nine fours was enough for Pakistan to post what eventually looked a match-winning total. Akmal was involved in a 96-run stand with his elder brother Kamran for the third wicket.