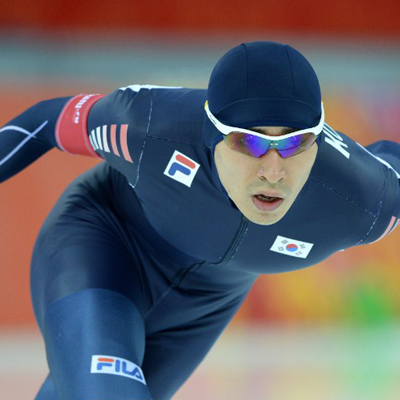 A bout of Olympic nerves and sleepless Sochi nights were to blame for the abject performance of experienced South Korean Lee Seung-hoon as his bid for a speedskating long distance double began in forgettable fashion.
The Vancouver 10,000 metres champion could only manage a 12th-place finish in the 5,000m at the Adler Arena in Sochi on Saturday. Despondent, he walked past reporters as Sven Kramer of Netherlands celebrated defending his title.
"I was confident that I could race well and I had no nerves the night before but when I walked into the arena the nerves started," the 25-year-old Korean, who won silver in the discipline four years ago, said on Sunday after training.
Lee skated in the 13th and final heat and was expected to give world record holder Kramer some nervous moments but he struggled from the start and never came close to matching the Dutch skaters strong lap times.
The Seoul native bemoaned a lack of sleep caused by too much travel and his struggles to acclimatise to the conditions at the Black Sea resort.
"I was not sick and I had no physical problems. I have been training in France and the Netherlands and now in Russia, and that is three countries in three weeks," he said.
"I have not slept well in Russia and I have found it hard to adjust to the climate, but I should have overcome all these things.
"I regret the result but now I must try to forget it and get ready for the 10,000m and the team pursuit."
Lee won the 10,000m title four years ago after Kramer was disqualified in Canada for a lane change mix-up. The Dutchman has vowed to right the wrongs and complete the long distance double on Feb. 18 when the 10,000m takes place.
Kramer and Lee will also go head-to-head in the team pursuit with the Korean desperate to register a breakthrough medal in the discipline.
"I want to have a medal in the team pursuit because Korea has never won a medal in that before," he said.