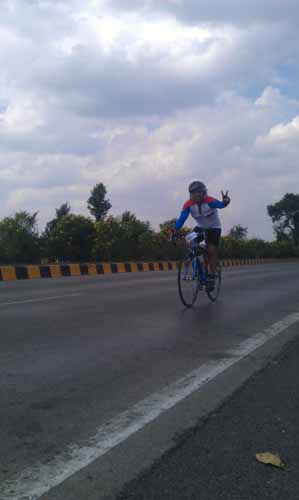 Cycling is not just about skills and endurance, but it requires mental strength and strong determination and Pune's cyclist Prashant Tikde proved it recently.
The 51-year-old emerged winner in the toughest and most demanding race - the Giant Starkenn Deccan Cliffhanger, where the riders were expected to finish the 643km race from Pune to Goa within 32 hours.
Surprisingly, just one day before the event, Tidke suffered a minor accident during his trek to Sinhagad, resulting into breaking of two ribs. However, Tidke showed his grit and determination not only participating but by winning the event in the above-50 category and also cleared the qualification mark for the RAAM (Race Across America), the world's toughest race. He received a cash prize of Rs10,000 for his efforts.
"It was very challenging event as it included few ghat sections. The most difficult part was after Dharwad where we faced a 4200m climb in the scorching heat. However, I managed to complete the race 3.5 hours before the qualification mark and very happy with my performance," said Tidke while talking to dna.
When asked about the injury, he said, "My participation was in jeopardy, when I had the nasty fall at Sinhagad. But, I was determined and decided to take part in this event. As a precaution, I was using muscle support tapes and was changing it after every 4-5 hours. I was also advised to take painkillers. But those medicines affected me badly and led to dehydration. Therefore I continued with a strong willpower," added Tidke.
Meanwhile, Delhi's Kartik Padmanabhan clinched the top honors in the under-50 (18 to 49) category.