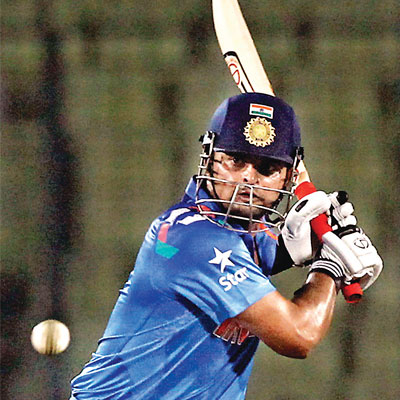 They say whatever happens, happens for good. When Suresh Raina was dropped from Asia Cup in Bangladesh, he must have been disappointed. By now, he must have realised that the selectors' decision to drop him was a blessing in disguise.
Questions were asked about Raina's ability against pace and short pitch bowling. However the left-hander from Uttar Pradesh worked his way during the 'break' that he received. Now, not only does he look fresh but also is confident of his abilities.
The two knocks — 41 off 31 balls against Sri Lanka and 54 off 31 against England — in the warm-up matches leading to the tournament proper are proof enough of his return to form.
Besides, the 27-year-old has found out new ways to handle the short ball that has been a bane for him. The way he handled England seamers with the likes of Jade Dernbach, Tim Bresnan, Stuart Broad and Chris Jordan was commendable. He doesn't leave the short ball awkwardly but plays with a positive mindset. He tries to keep the ball down or goes over the square leg like he did on Wednesday.
The other shot that he used against the short stuff was opening himself and directing it to either third man or over point with a horizontal bat a la former India skipper Sourav Ganguly. And he displayed the same against Broad.
During his time out of the Indian team, Raina consulted one Ganguly, who himself struggled against short ball but still found himself ways to negate his weakness. "Sourav Ganguly was one such man. I spoke to him and he was ready to help me. We spoke a lot and he told me that I needed to work hard on my footwork and on my mind. He is a good batting coach and motivated me a lot when I was mentally down.
Our batting style is very similar and we spoke about the short ball, footwork and making a comeback. I got a lot of positive vibe from dada (Ganguly). He told me a lot on trusting my own ability, and spoke about minor things that I had overlooked for some time," Raina told a news channel before leaving for Dhaka.
Raina has not only done well with the bat, but also with the ball. He got two crucial wickets, those of Kumara Sangakkara and the destructive Michael Lumb in the warm-up games besides bowling a tight line.
Raina's off spin will certainly give an extra option to MS Dhoni during the tournament.
Now, it is time for Raina to continue his form in meaningful games and make it count.