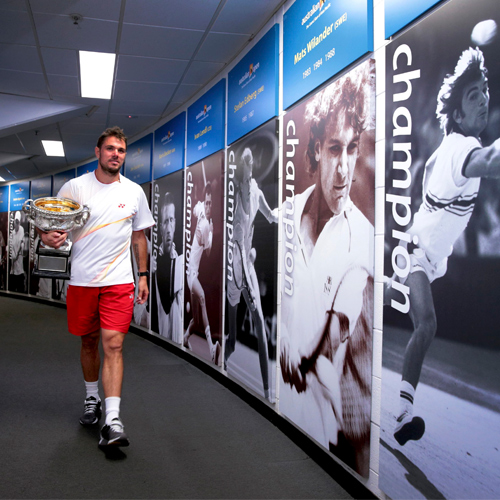 If Stan Wawrinka often has a gently befuddled, "What day is it again?" look about him, the effect was redoubled on Monday as he posed for photographs by the banks of the Yarra River.
As he held up the Norman Brookes Challenge Cup on another shimmering Melbourne morning, Wawrinka was not the only one to find himself blinking in disbelief. The tennis community woke up to a new world. A world in which the old certainties - namely that every grand slam tournament must be won by Rafael Nadal, Novak Djokovic, Roger Federer or Andy Murray - have been significantly undermined.
We had previously seen only one outsider break into the cartel since the spring of 2005 - which is when Nadal claimed his first French Open, and the rivalry between these modern giants began in earnest. That came in 2009, when Juan Martin del Potro came up with a shock for the ages by ambushing Federer in the US Open final. But Del Potro then suffered a long-term wrist injury, and the open era reverted to being anything but.
The difference this time is that Wawrinka's victory on Sunday has left the world rankings in a reshuffled state. Nadal has gained points, owing to his absence from this tournament last year, but second-placed Djokovic has fallen 3,700 behind - the equivalent of almost two grand slam titles. Murray is now the world No?6 and Federer an almost unthinkable No8.
There has been a sense over the past 12 months that the chasing pack were moving closer. It is just that few would have tipped Wawrinka - a man described as "a bit of an underachiever over the last couple of years" by his own coach Magnus Norman - as the one to break the spell.
Are we about to enter a more unpredictable phase in this hugely hierarchical sport? "Maybe," Wawrinka, the new world No3, said. "For sure, some players will realise it's possible now to win a grand slam. All the top 15 players already said that last year we were thinking the four major guys were still there, still amazing players, but we had more chance to beat them. We didn't win a grand slam but we were closer to them."
Even in his own mind, Wawrinka, 28, has come from left field over the past fortnight. He was not a member of the "next-best four" - a group occupied by Del Potro, Tomas Berdych, David Ferrer and Jo-Wilfried Tsonga - who had all managed at least one runner-up spot over the past six years. "Before this week I always thought they were closer than me," Wawrinka said. "I don't think a lot of people in Switzerland were expecting me to win a grand slam."