With series already in Proteas' pocket, either rain or a courageous show from MS Dhoni & Co. in third ODI today will save India from 0-3 drubbing.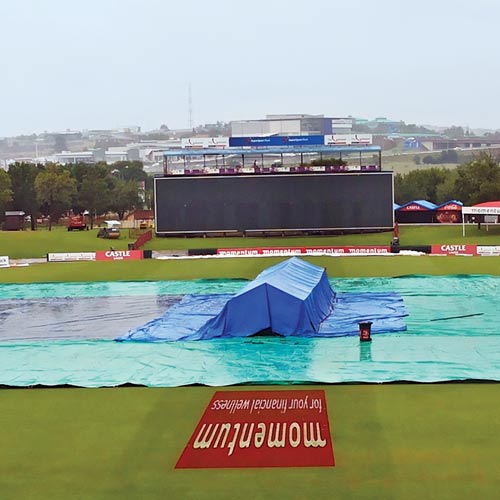 With enough courage, you can do without a reputation. India arrived on these shores with a lot of the latter. But the former is something they haven't displayed in the games gone by.
No wonder, then, that the visitors find themselves on the wrong side of a 2-0 scoreline. Worse, the prospect of a whitewash and even a washout will loom large at the lovely SuperSport Park on Wednesday.
Tuesday was about 'showers' of blessings and traffic jams. As a galaxy of kings and queens, princes and princesses, presidents and prime ministers, celebs and superstars gathered at a rain-soaked FNB Stadium in Johannesburg to attend Nelson Mandela's memorial service, Team India went about their business with diligence at the indoor facility 60 km away. Expectedly, the team management shooed the media away.
So was Duncan Fletcher set to deliver a Churchillian speech? Hope he did. Inspiration is something else the boys need. YouTube is another avenue they could explore.
"Tendulkar+Akhtar+Centurion+2003" wouldn't be a bad entry in the search box. You remember that six, don't you?
After suffering humbling defeats in Johannesburg and Durban, where they failed to even turn up, MS Dhoni & Co. must be desperate to put up a fight in the third and final ODI of the rubber. Or at least turn up.
Dale Steyn and the others asked India some probing questions over the past week, the answers to which the top order never had. Rohit Sharma looked anything but convincing; his partner Shikhar Dhawan failed to assert himself and Virat Kohli flattered only to deceive. Attack, defence, adaptability and patience they came up short on every front.
The rest, bar skipper Dhoni to some extent, appeared stunned and startled. Yes, pace and bounce has always been India's Achilles' Heel, but everyone expected this team to bury the demons of the decades gone by. Alas, they seemed to have followed in the footsteps of their predecessors.
The bowlers were no less uninspiring. In fact, they ought to take more of the blame. All these months, they were as good as cannon fodder. And we couldn't afford to point a finger at them because they weren't bowling on sporting pitches. But how can they explain the fact that they have conceded 638 in two ODIs? Wanderers and Kingsmead were no shirtfronts. India were bowled out for 217 and 146, respectively, on these 22-yard stretches.
The idea of a clean sweep isn't new to Dhoni. His team registered quite a few in the months gone by. Lest we forget, that success was achieved on docile batting tracks and abrasive spinning wickets. Rewind to 2011 and India were at the receiving end of the same in England and Australia. Those conditions were, of course, hostile. It has been no different in South Africa.
Given that there is a 70 per cent chance of precipitation, the visitors will have to wait for the Test series to hit back. Or at least try to. But mind you, it will be anything but easy even if the sun decides to return from its unscheduled holiday. The air here is about five degrees cooler than it was Durban and that means the South Africans will make the ball talk again. They do so anyway.
And the pitch? Forget it.
The need of the hour is courage –– that of conviction, of batting first (South Africa have an awful record while chasing), of turning up and, maybe, of playing like world champions. Can they muster up some of it?