Wicketkeeper-batsman scores punishing hundred as SA post 359/4 in first ODI.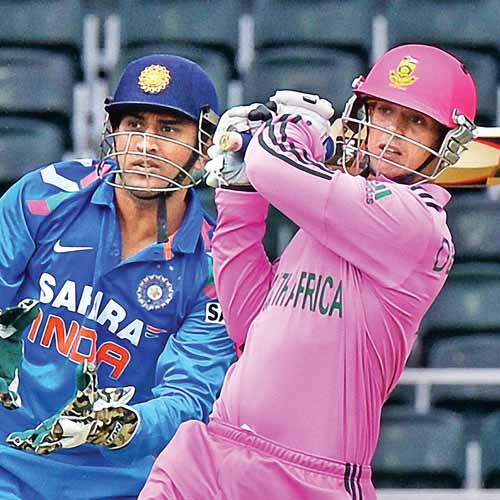 If you believe pink represents beauty, babies and all things lovely, you might want to have a rethink. South Africa were dressed from head to toe in the most serene of shades for a righteous cause, but they were in no mood to be charitable to a clueless Indian attack at the Wanderers here on Thursday.
Ironically, it was the baby-faced Quinton de Kock who led the carnage with an oft-imperious, oft-cheeky 135 (121 balls, 18x4, 3x6) as the Proteas gave MS Dhoni & Co a pummelling in the first ODI. And not for the first time in recent months, the bowlers conceded over 350 runs, leaving the batsmen to do an overtime shift.
Wicketkeeper de Kock wasn't the only one who milked the bowlers, each erring in line and length, and bowled at least a couple of notches slower on a lively track. Fellow opener Hashim Amla scored a cultured 65 at a strike-rate of 74 while skipper AB de Villiers and Jean-Paul Duminy smashed nine sixes and eight fours between them to register enterprising half centuries as the hosts posted 358/4.
As many as 134 of those runs came in the last 10 overs; 84 were scored off the last five.
India couldn't have hoped for a worse first day in office on these shores, but the fact is they brought it upon themselves. Were they fearful? Were they circumspect? Or were they worried about the dew factor? We wouldn't know, but Dhoni's decision to bowl backfired big time. He backed Mohit Sharma, Bhuvneshwar Kumar and Mohammed Shami to deliver the goods, hence choosing to keep Ishant Sharma and Umesh Yadav out.
Mohit went for 82 in 10 overs and Kumar conceded 68 off nine. Shami, who got three wickets for 68 off his 10, looked the best of the lot. But even he was dealt with severely later in the afternoon.
Dhoni also employed his spinners for 19 overs, but none of R Ashwin, Ravindra Jadeja and part-timer Suresh Raina succeeded. Amla was cautious to begin with. In fact, he was nearly run out for seven but for Shikhar Dhawan's throw that narrowly missed the stumps. What's more, he should have been caught on eight. This time, Rohit Sharma was the culprit. The world's premier batsman for some years now, the bespectacled and bearded right-hander then came into his own by punching Kumar through the covers before whipping him for a six over deep midwicket.
Little de Kock was flashy all along. And he was clearly the dominant of the two. Yes, he too survived a close call in the deep, but that was that. Batting with a slightly side-on stance, he had no difficulty in handling the Indians bowlers who bowled without plan or purpose. When the ball was new, they bowled short and wide; when it got older, they dropped in pace, prompting the batsmen to step out and smash them all over the Bullring. Yorkers were few and far between and slower ones were too easy to spot, pick and dispatch. South Africa didn't make merry in the Powerplay overs –– they collected 32 for the loss of two wickets between the 31st and 35th overs –– but Dhoni had no choice but to bring on his spinners in the 36th. Centurion de Kock fell in the 42nd over –– to Virat Kohli of all bowlers –– and even got a rude send-off.