Out of reckoning in IPL, Swapnil Asnodkar says he hates watching the league on TV and hopes to make comeback soon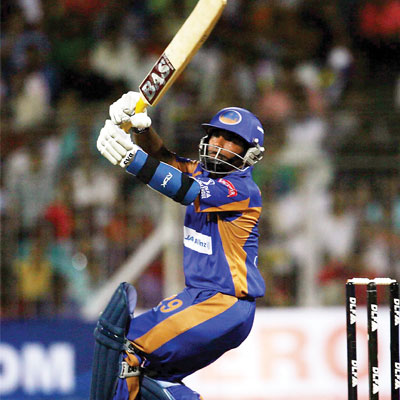 Swapnil Asnodkar hates sitting at home and watching the Indian Premier League on TV. But he has no option and it has been so the last three years.
The 30-year-old right-handed opener from Goa, nicknamed Pocket Dynamite following his heroics in the inaugural IPL, is nowhere in the picture now. Asnodkar, who formed a formidable opening partnership with Graeme Smith and shared a 418 at an average of 59.71 with him 2008, now represents Goa and is trying to comeback into IPL fold.
Asnodkar caught nation's attention with his attacking knocks at the top of the order at a time when Indian players were learning how to go about with the business in T20.
However, Asnodkar, who totalled 311 runs in nine innings in IPL 1 at a strike rate of 133.47, could not replicate the form in second IPL and after playing just two matches in 2010 and one the next year, he did not play in another IPL season.
Currently, he is in prime form for his state in the Syed Mushtaq Ali Trophy T20 tournament. In nine innings in the South Zone and Super League, Asnodkar has amassed 362 runs with five fifties and one 40-plus and is praying that his efforts don't go unnoticed.
"It is sad that the IPL selection (auction) was done before this tournament," Asnodkar told dna from Rajkot. "If it was held after this tournament, things would have been different.
"But, as I always believe in one thing, whatever happens, you have to move on. All I want to do is to go out there, give my best and contribute to the team.
"God is watching somewhere. Hopefully down the line, there will be something for me."
Asnodkar, who as a stand-in captain in 2011-12, was disciplined and dropped for two Ranji matches after aborting a run chase when Goa were in pursuit of a target of 130 in 20-odd overs against Maharashtra, cannot forget how IPL turned him into a hero from a nobody.
"IPL has been the biggest platform for me, being a part of the winning team in the first edition, playing alongside Shane Warne, Graeme Smith, Shane Watson, among others. I will never forget that period because it was a dream-come-true. It was really great sharing the dressing room with such legends and learning from them. All I hope and pray is somewhere down the line, I will get another opportunity and prove that I am still on," said Asnodkar.
"It is a bit sad that I am not part of IPL and I'm sitting back at home and watching it on TV. I hope someone is watching these matches (Mushtaq Ali Trophy) and following my scores. If I keep doing well in each and every outing, somewhere down the line, there is something for me. The only thing I can do to return to the big cricketing fraternity is to keep getting big runs," he added.
Asnodkar insisted that he was not happy playing just T20. "All formats are important and different. You need a lot of patience to playing first-class cricket," said Asnodkar, who has 4,161 runs in 60 first-class matches at 42.45 with a highest score of 254 not out.
He felt that playing for Goa, a lesser-known cricket team and for any other bigger states made a difference in terms of gaining recognition. "It does make a difference. Playing for Goa, the performances will not be highlighted as much as those from Mumbai, Delhi or Karnataka. Then, what I have in my hand is go out there and give my best. It is my pride to be born in Goa and bring laurels for my state."
ASNODKAR IN IPL
2008 2009 2010 2011 Total
Matches 9 8 2 1 20
Innings 9 8 2 1 20
Not out 0 0 0 0 0
Runs 311 98 5 9 423
Average 34.55 12.25 2.50 9 21.15
Strike Rate 133.47 105.37 125.00 100.00 124.77
Highest 60 44 4 9 60
50s 2 0 0 0 2
Asnodkar in Mushtaq Ali Trophy this season (including Saturday's match vs Gujarat)
9 matches, 9 innings, 1 not out, 362 runs, 70* highest, 42.25 average, 139.23 strike rate, 5x50