Surprise! you could be the best ever Serena. McEnroe praises the tigress with a fearsome will to win.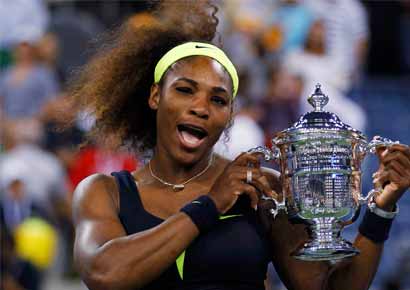 Sometimes Serena Williams surprises even herself. After one of the finest US Open women's finals in living memory, where the American sprung back off the ropes in the deciding set to vanquish Victoria Azarenka, she was lost in wonderment at the turnaround that her inexhaustible will had wrought.
"I was preparing my runner's-up speech," the American admitted, in the wake of a 6-2, 2-6, 7-5 triumph to yield her 15th grand slam title. "But I have come back so many times, in so many matches. I never, ever give up."
The wonder of Serena resides in this very fortitude. And in Arthur Ashe Stadium on Sunday night, there was a palpable appreciation among the New York crowd for the talents of a woman described by John McEnroe as the greatest female tennis player we have ever seen. That is some claim, given the memories bequeathed by Martina Navratilova and Steffi Graf, but the fearsome resolve with which Williams reeled off four straight games to defeat Azarenka, the world No?1, rendered it legitimate.
Her fourth US Open glory, and first since 2008, set the seal on a summer of frightening dominance by the 30 year-old.
Not content with her fifth Venus Rosewater Dish at Wimbledon, she proceeded to snatch double gold at the London Olympics, before re-establishing herself at Flushing Meadows as the Queen of New York. The majority of her matches en route were not so much wins as obliterations; in the Olympic final she swatted Maria Sharapova for the loss of just one game, and in the last four here her blunderbuss of a serve reduced poor Sara Errani to the appearance of a helpless schoolgirl.
Azarenka was the only player to coax a contest out of her but even the Belarusian, ultimately, had no answer to the passion and potency of Serena's game. "The serve is definitely the biggest asset," Azarenka acknowledged. "Mentally, she is definitely the toughest player there is. Plus, she has the power. I I felt like I gave it all there, but it's time to really realise what happened today. It was a great match."
Facing Williams at her most destructive is rather like trying to extinguish a grease fire: no matter how many ways you seek to suppress it, the flames simply refuse to be doused.
This on-court ferocity appears more extraordinary when considers her recent turmoil. Somehow, the most garlanded period of her career has come soon after her grimmest ordeal, in which she had to be treated for a life-threatening pulmonary embolism and sliced her foot open on a broken bottle in Germany.
These were not isolated agonies in the Serena story; indeed, since 1999, she has missed 10 slams through a combination of injury, illness and bereavement. Had she competed in those, one has to suppose not merely that she would have surpassed her own mark of 15 titles, but that she would be chasing Navratilova's 19 or Graf's 22.
"I think so," Williams agreed. "Some of those situations I couldn't help. But I have let them go - I don't want to think about what could have been. I just think about what I have and what I want to do."
As it is, she hardly wants for records. With this latest coronation, she added to a US Open heritage forged by her win as long ago as 1999, when she burst through to worldwide notice as Venus's flighty younger sister. That span of 13 years represents the longest period over which any player has held a winning record in a single slam, eclipsing Pete Sampras, who won this tournament five times between 1990 and 2002.
It is difficult to square the history -making Serena with the far more fragile version, who suffered her only ever first-round exit in the slams at the French Open in May. But then she has always been a character to lurch violently between extremes, as she proved by her strange mid-match funk against Azarenka.
Her great quality lies in the force with which she rebounds from any setbacks. She had, she said, "never been so miserable about a loss" as after her defeat to France's Virginie Razzano at Roland Garros, and yet she has rallied to savour the most sunlit summer of her tennis days.
"I don't think about the downs too much," explained Williams, who celebrated her latest success at a karaoke party until 3am, singing, appropriately, I Will Survive. "I hope I never think about them as my life continues. Champions are defined not by their wins, but hope they can recover when they fall. I have fallen several times, but each time I get up, dust myself off and pray that I am to do better and get back to the level I want to be on. It feels awesome that I have been able to do that."
As a committed Jehovah's Witness, Williams is comforted by her faith. But as she enters her fourth decade, she also retains a belief in her enduring strengths and in her capacity, a la Andre Agassi, to keep winning events of this magnitude beyond the age of 30. Do not for a second doubt her appetite for more.
"Oh my gosh, my motivation is so up there," she said, with her characteristic airiness. "Even though I'm 30, I feel so young. I've never felt as fit or more excited or more hungry. I really want to be focused and keep the dream alive. Even with this win, I'm sitting here so excited to play the next grand slam and see what I can do."
She had been assisted in this on Sunday evening, when mother Oracene had shouted at her from the player's box: "Stay calm!"
At times, her only enemy in the continuance of her crushing supremacy is herself. Williams had been peerless in the opening set of this final, before displaying flat feet and a loss of concentration to let Azarenka back in. But since Paris she has been working under the strong discipline of coach Patrick Mouratouglou, and the results have been a sight to behold.
"I love how calm Patrick is," I'm a little crazy. So, we have good chemistry. It has been fun to have a change of scenery at 30 years old. It has made me more excited to play."
For a rededicated Serena, the horizons have no limit. Age shall not wither either her desire or her quite extraordinary resilience.