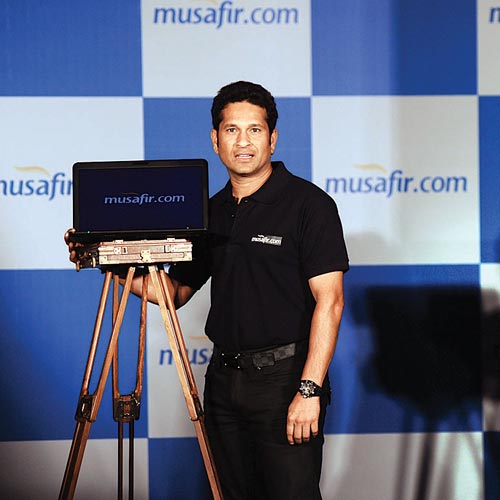 The Mumbai Cricket Association (MCA) is in talks with its 'neighbour', the Mumbai Hockey Association (MHA), to accommodate a few thousand fans at the MHA-Mahindra Stadium during Sachin Tendulkar's 200th and final Test match at the Wankhede next month.
"The idea is to erect a giant screen at the hockey stadium. Not everybody will manage to get a ticket. So the MCA hopes to seat fans at the adjacent venue. We will soon send a proposal to the hockey association," an MCA insider said.
The Wankhede Stadium can seat about 32,000 people and only 6,000 tickets will be available to the general public. The MCA will have to distribute tickets/complimentary passes to its 329 member clubs, the BCCI and its affiliated units, the Union and state governments, police department, et al.
And the MHA, which shares its compound wall with the Wankhede, will be all the more happy to oblige the MCA. "Mr Pawar visited our stadium yesterday (Tuesday). Even though he did not bring up the matter, I hope we get a proposal from the MCA. We will be happy to help," MHA secretary Ram Singh Rathore said.
Rathore, however, made it clear that the MHA will not tolerate any damage to the astroturf.
"We will not allow them to place chairs on the playing surface. They may seat the fans in our stands which can hold about 6,000 spectators. The giant screen may be placed near the electronic scoreboard," he said.
Another MCA official this paper spoke to revealed that the association had similar plans during the 2011 World Cup final. "There was an unprecedented demand for tickets on that occasion too.
But the Mumbai Police was not too keen on providing security at the hockey stadium. Truth is no policeman was willing to watch the game on the giant screen. Everyone wanted to watch it live," the official laughed, before adding, "but this time we hope to convince the police department to accept our request."
Let's leave that to Pawar saheb. The Nationalist Congress Party runs the home affairs department in the state. And one of his trusted lieutenants, RR Patil, is the home minister. After all, it's for Tendulkar.