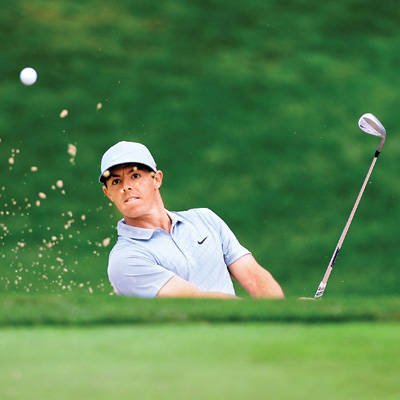 Midway through the second round, Rory McIlroy moved into a familiar position; the one he has begun to believe is his by right.
Five-under in the first round at the 96th PGA Championships at Valhalla Golf Club, McIlroy, winner of the Open and WGC-Bridgestone in his last two starts, holed a monster 32-footer for an eagle on the 18th to get to three-under 33 for the back nine of the course after starting on 10th on Friday morning. That took him to eight-under. A bogey on second pushed him back to seven-under, but he was still in lead.
The morning may have been wet, damp and gloomy for most, but for McIlroy it was not, as he moved from five-under to eight-under despite a bogey on 12th, where he went into the greenside bunker and then left a 10-foot par putt short by four inches.
That eagle on 18th, his first this week, saw McIlroy move two clear of the field. McIlroy bogeyed the second —his 11th hole of the day — when he went into the fairway bunker and then missed a 12-footer par putt. But he was still ahead, as his nearest rivals, Lee Westwood and Kevin Chappell, two of three co-leaders of the first round were yet to start.
The third topper of Thursday, Ryan Palmer, who has only one top-10 in 18 Major starts, was one-over through 16.
But two others making good moves on a wet and soggy Friday, when it was expected to pour through the day, were veteran Steve Stricker and Henrik Stenson, who has top-five finishes in three of his last five Major starts.
Stricker, if he wins, could have to make a difficult choice between playing on the Ryder Cup team or being its Vice-captain to Tom Watson. Stricker, who started on tenth, added four birdies on the back stretch of Valhalla Golf Club and moved to six-under following a 69 on first day.
Tiger Woods, a 14-time major champion chasing the all-time record 18 majors won by Jack Nicklaus, was due to tee off in the afternoon. But after opening on 74 to share 109th, three strokes beyond the projected cut line, he was simply fighting to reach the final rounds.
Stenson, who could climb to No.1 in world ranking with a few ifs-and-buts regarding Mcilroy's finish, which should be no better than top-14 this week, was even through nine and at five-under for the tournament, alongside Jim Furyk and Edoardo Molinari, who were yet to tee off on Friday.
Time seemed to be running out for both Stricker and Westwood, two great players still without a Major to their name and they also seemed out of the race for their respective Ryder Cup teams. But the events of past 36 hours may well have propelled them back into reckoning.
McIlroy, whose second-round collapses have had begun to take epic proportions till he put them to rest at the Open, bounced back from a bogey at 12 with a 12-foot birdie putt at 13 and a 16-foot birdie putt at 15. He then added a stunning eagle from 32 feet.
Palmer who birdied the ninth from four feet to grab a one-stroke lead at seven-under, later dropped back, first to six-under and then to five-under with bogeys on 12th and 15th.
In the morning, heavy showers caused a 45-minute delay. The rains did not abate through the day as the 7,458-yard course took a pounding. Downpours are expected to continue throughout the day.
Joining the list of withdrawals was Ben Crane, who opened on 74, withdrew due to back issues, the fourth American to pull out of the event. Sixth-ranked Matt Kuchar and past winner David Toms withdrew with back trouble before the start and defending champion Jason Dufner pulled out after 10 holes Thursday because of a neck injury.