Defending champs may be struggling but return of Zaheer will spur them on against in-form Maharashtra in quarterfinals.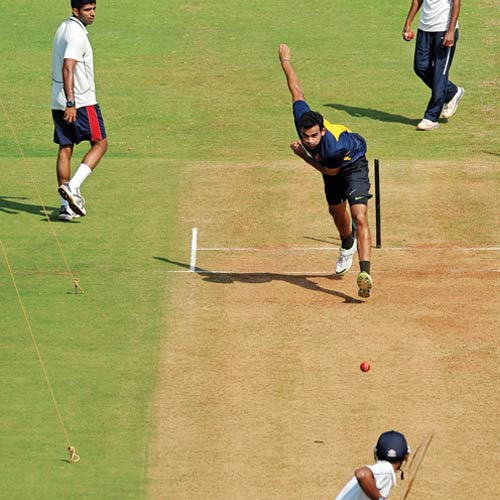 Usually, Mumbai begin favourites against Maharashtra in Ranji Trophy. However, the same cannot be said at the moment, considering the form both the teams are in going into the quarterfinals starting at the Wankhede on Wednesday.
After a start that saw the defending champions win three of their first four matches under Zaheer Khan, Mumbai have hit a low in their last four matches, losing to Karnataka away, conceding first innings points to Jharkhand at home while just about scraping through to the last eight with a narrow victory in Valsad last week. Mumbai have used as many as 22 players in the eight league matches with only Wasim Jaffer, Aditya Tare and Vishal Dabholkar figuring in all of them.
Even if you leave aside the retired Sachin Tendulkar, who played the season opener, Ajinkya Rahane and Zaheer who have been away on national duty in between and injury concerns to a couple of them, Mumbai have still given chance to umpteen players in their search to find a settled line-up.
The quarterfinal also sees the return to Mumbai ranks of Vinit Indulkar, who last played a first-class game in December 2010 for Himachal Pradesh, and has since been in form in local tournaments. His experience will count, especially when Mumbai miss out on one of their key batsmen this season, Hiken Shah, who split a webbing on his right hand in the last game against Gujarat.
To add to that, when Zaheer was away on India duty, the captaincy reins changed hands twice, first going to Abhishek Nayar and then to Jaffer after the all-rounder was out of the side due to injury.
Zaheer said on Tuesday that these things could happen when a team goes through transition.
"Ajit (Agarkar) was instrumental in keeping everyone on track and keeping everyone together. We have been trying new bowlers who can be useful in the coming years for Mumbai.
"The same thing for batting as well, there have been many guys who played this season."
Things should return to normalcy for Mumbai with both Zaheer at the helm and Nayar back in the side, relieving Jaffer of the burden of captaincy and letting him concentrate on his batting. For Mumbai, having Zaheer back in the side is akin to having won half the battle. His presence would intimidate the opposition, especially when a typical Wankhede strip is on offer, which helps pacers initially.
Having said that, Maharashtra cannot be taken lightly. Their top two have scored most runs this season — Harshad Khadiwale (930) and Kedar Jadhav (863). Their batting has been boosted by the return of Vijay Zol, who scored a match-winning 100 for India Under-19 in the Asia Cup final against Pakistan in Sharjah last Saturday. Zol has been cleared of a groin injury by his team management and is raring to go.
Coach Surendra Bhave said: "They (Khadiwale, Jadhav, Zol) are the batsmen in form. But we are not going to depend on one or two players to perform. If we perform as a unit, we will be alright."
Maharashtra's bowling cannot be underestimated. Their bowlers have picked up 20 wickets in a match on three occasions on the flat tracks of Pune and skipper Rohit Motwani is confident of them delivering the goods here.