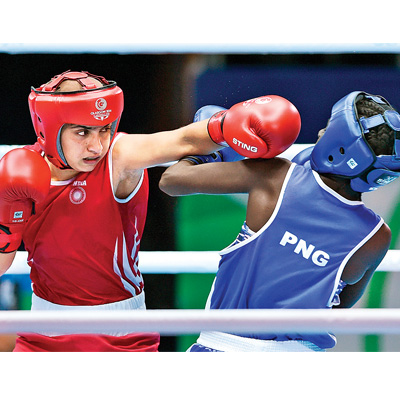 India was assured of at least thee more medals as three boxers, two women and one in men's section made the last four of the boxing competition. Two more have a chance to join them later in the evening, including 2008 Olympic bronze medallist Vijender Singh and Devendro Lashiram in 49kg.
Pinky Rani, hoping to avenge MC Marykom's defeat at the hands of English favourite Nicola Adams, led three Indian boxers into the semifinals on Wednesday. Pinky, who made the team after beating the legendary Mary Kom at the trials in India, entered the semifinals of the 48 kg category with a unanimous points win over Jacqueline Wangi of Papua New Guinea in the quarters on Wednesday.
A little later, Laishram Devi joined her from the women's 57 kg category, as she beat Welsh boxer Charlene Jones in a close fight 2-1 on points. One of the three judges ruled in the favour of Jones, but the other two gave a clear win for the Indian, even as the crowd favoured the Welsh girl.
Laishram said, "I want to win this medal for my son, I have not seen him for five months now because I have been travelling with the team. During pregnancy I was 85kg but after having my baby, my husband gave me full support to help me come back. I want to dedicate this medal to all people of India."
Pinky on reaching the semifinal said, "It has been a 10-year journey for me. I am so happy about the medal, but I want to get the gold medal. My family and coaches have supported me so much and given me the confidence. It is great to have women's boxing in Commonwealth Games finally and I am happy that I made it here."
Earlier, Amritpreet Singh lost to local Stephen Lavelle on points. Lavelle said Amritpreet was tall, but added, "It is not the size that matters. He was getting riled up and tired by the end."
Another male boxer, Mandeep Jangra will also make the semi-final, as his opponent, Daniel Lewis of Australia was ruled out after a medical check. Lewis suffered a cut in his last fight against Nigerian Kehinde Ademuyiwa.
Light fly (49kg) Devendro Lashiram meets Scotland's Aqueel Ahmed and Vijender Singh meets Adam Prince in the semis of welterweight later in the evening.