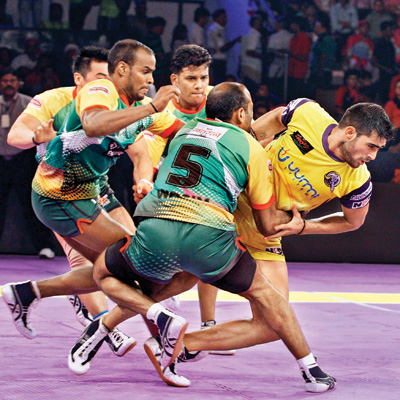 In a closely contested match at the Sawai Mansingh Indoor Stadium on Saturday night, Telugu Titans edged past Patna Pirates.
With both the teams fighting to get ahead of each other in the points table, the match was peppered with some exciting raids and spectacular tackles. While Patna was slightly weakened with the absence of their captain Rakesh Kumar, Telegu Titans looked their attacking best with Rahul Chaudhari and Deepak Niwas Hooda backing each other beautifully. A clash to remain in the fray for the semifinals for the Titans, the yellow army fought hard and defeated Patna by 3 points.
Patna got the points-tally going with one successful raid followed by a strong tackle. As a dangerous looking Deepak Niwas Hooda took an early exit and Rahul became a victim to Sandeep Narwal's quickfire raid, the titans looked in a spot of bother. Vizag conceded the first LONA points soon after in the sixth minute, taking their lead to 9 points. But Sukesh Hegde soon joined the party ousting two Pirates including Ravi Dalal. Deepak traded roles and showed his prowess as a defender, single-handedly throwing Sandeep Narwal off the field of play. Before long Patna's Gurvinder Singh failed to dodge the Titans, giving the Titans their first LONA points. Inching closer to Patna's once mounting lead, the Titans fought back, trailing by only two points making the half-time score 18-16.
Thanks to two consecutive raids by Rahul Chaudhuri in the very first minute of the second half, Patna was just left with Ravi Dalal and inevitably, the Titans welcomed their second LONA points of the match. Leading by 3 points in the 25th minute, Rahul Chaudhari continued to throttle the Pirates, leaving them a 5-men army. But Patna did not give up easy sending Rahul and Sunil Kumar back to the bench, thanks to a failed attempt by Rahul to tackle Sandeep Narwal. After a short interval of empty raids, Patna were staring at the bottom of the barrel yet again, having lost two players consecutively. With just ten minutes to go the Titans led the match by three points, placing them in third spot followed closely by the Pirates at fourth.