Rajasthan Royals mentor lauds the efforts of 42-year-old leg-spinner, who is an integral part of the side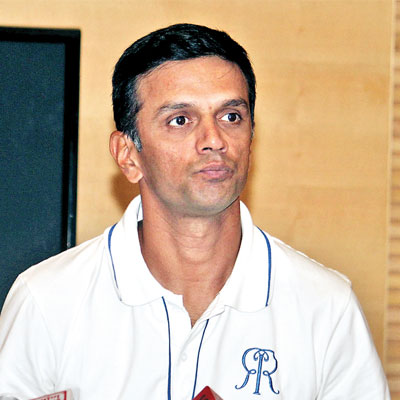 Rahul Dravid has been a role model for the younger generation. He has inspired not just upcoming cricketers but also many others in different walks of life.
Now as a Rajasthan Royals mentor, the 41-year-old from Bangalore has been modest to admit that his team leg-spinner Pravin Tambe, who only on Monday took a hat-trick at the age of 42 and is the joint highest wicket-taker (before the start of Wednesday's KXIP-CSK match) is in fact an inspiration to many.
"I think he (Tambe) is a much bigger inspiration than I have been (to him)," Dravid told a media gathering on Wednesday. "Someone like Pravin, who has spent so many years playing club matches and not even domestic cricket, is just one of the hundreds of thousands of kids of India who keep playing cricket without even having played first-class. His success is just phenomenal. He works hard, remains humble and I think he is a great inspiration for a lot of us. The way he goes about his business at this age, he is constantly willing to learn, is simply amazing. He is an integral part of the team."
Tambe completed a remarkable downfall of Kolkata Knight Riders after Shane Watson triggered it by taking three wickets in an over before the leg-spinner's hat-trick. The collapse from 121/0 to 123/6 prompted KKR captain Gautam Gambhir to say: "I have not seen this kind of cricket".
Neither has Dravid. "It (cricket) is really about glorious uncertainties. I haven't seen a game where six wickets were lost in a span of eight balls. I have seen four wickets fall in an over and I was one of the victims, but not like this. Seeing top six batsmen collapse, it shows how a T20 game can change in one or two overs."
Rajasthan Royals are currently third in the table with 10 points from seven matches. Dravid felt pleased with his team's progress. "At the half-way stage with five wins, it is a good position to be in. Not because of our position in the points tally but I think the kind of cricket we have played, especially those close encounters which we won from losing positions. We displayed a good team spirit. That was heartening and that has changed."
He lauded the batsmen for the kind of shots they execute in this league. "The skills are incredible. Even the bowlers are getting smarter, especially in the UAE where there were not much high-scoring games. The boundaries were quite big, giving bowlers equal chance. So, both batsmen and bowlers are innovating without changing the basics," the former India captain said.
Royals have come back well after last year's spot-fixing controversies. Dravid said: "You can never let your guard down. One of the lessons I learnt from last year is that you have to remain vigilant, you can never get complacent. Everyone involved in the game like players, support staff, management, people who run the game have always got to keep their eyes and ears open. There will always be people wanting to spoil good environment. Touch wood, there is no controversy so far but tomorrow you never know. I think you can never be complacent."
The league has not been without its share of player conflicts, the latest one involving RCB's Mitchell Starc and MI's Kieron Pollard. Dravid, however, said that the relationship among players were find. "The good thing about IPL is that it has general camaraderie among teams it is nice for the game," he said.