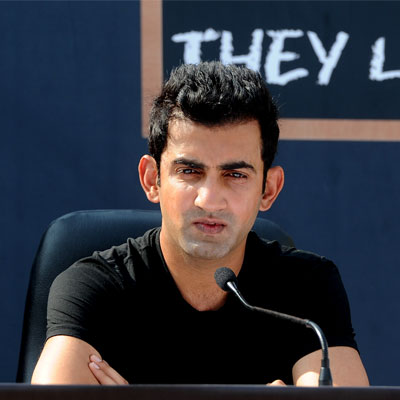 Delhi Ranji Trophy skipper Gautam Gambhir is back in the news for all the wrong reasons. Known for his temper tantrums, the discard India opener has been reported by former India player and Delhi & District Cricket Association's pitch curator Venkat Sundaram for threatening him with bat during a heated exchange of words between the two.
According to Sundaram, who has made an official complaint to all the top officials of DDCA, the incident took place during Delhi team's practice session at the Ferozeshah Kotla ground here on Monday. It happened when Sundaram was instructing the ground staff about "preparing wicket for the upcoming February 27th one-day game".
Sundaram said: "I was routinely passing on instructions to my ground staff when suddenly Gautam intervened and asked my staff to not follow any of my orders. He shouted at me... 'You go and give interviews to newspapers. Don't interfere here', Gautam shouted in front of everyone present there."
The veteran curator added: "I would have forgiven and not reported this incident to DDCA top officials had he not raised his bat at me in anger."
A groundstaff confirmed the incident to dna. "Captain asked us not to water the pitch, which Venkatji was asking us to do. A huge quarrel followed between the two in English that I was not able to understand," said the groundsman.
When contacted, Gambhir denied any such incident. "I can categorically tell you that there is no truth in this. Yes, I did meet him on Monday at Kotla but there was no heated argument at all. Being the well-wisher of Delhi cricket, my only suggestion to Venkat Sundaram was to give us a wicket that suits the Delhi team," Gambhir told this paper, adding: "Yes, we have differences of opinion when it comes to the nature of pitch but to say that I abused him is a piece of fiction. Even some time back he accused me in the media of interfering in his job as a curator. Being the captain of the Delhi team, I have enough things to worry about and Venkat is the last person on my mind."
There is a past history to what happened on Monday. It was during Ranji Trophy tournament that Gambhir refused to play at the Kotla citing the dead and slow nature of the pitch. "How can you play at the international level if you are so much worried about the nature of wicket," Sundaram reportedly said then in the media.
But Gambhir has other version to defend his decision to play outside Kotla. "We are the defending champions of Vijay Hazare Trophy (limited-overs tournament) and therefore onus is on us to maintain consistency this year as well. Stories like these are distraction and I'd like to stay away from them."
Sundaram has threatened to report the matter to BCCI if no action is taken by DDCA disciplinary committee in the next couple of days.