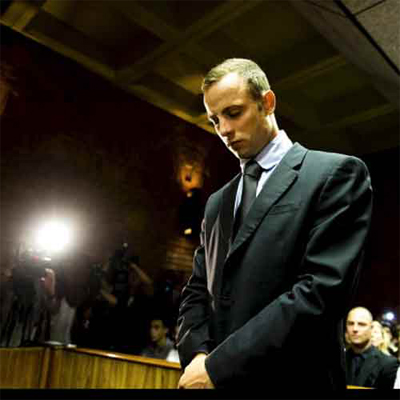 A series of still photographs of Paralympic sprinter Oscar Pistorius demonstrating his prowess at a gun range have reportedly emerged just days ahead of his trial for the murder of model Reeva Steenkamp on Valentine's Day last year.
The double amputee Blade Runner will appear in court on in a case which will make South African history as the first to be broadcast live for millions around the world to follow.
According to Sky News, the pictures, which show Pistorius firing the same silver 9 mm pistol he used when he fatally shot Steenkamp at his luxurious Pretoria home, were taken months before the killing.
The pictures reportedly show Pistorius firing at a watermelon, which explodes as the athlete hits it right in the centre, and also show him shooting alongside South African rugby player Francois Hougaard, who was romantically linked with Steenkamp at the same time she was dating Pistorius.
The report mentioned that Pistorius, who is a well-known gun enthusiast, went to gun ranges regularly and the pictures illustrate not only his familiarity with weapons but also how much of a marksman he is.
Although the athlete is accused of deliberately targeting his girlfriend after a jealous row, he however, said that he shot her after mistaking her for a burglar, adding that as he has a strong fear of intruders after previous burglaries and 'death threats', he kept his 9mm pistol underneath his bed despite living on a residential estate with 24-hour security.
The athlete's knowledge of guns and weapons will be examined at his trial, which is scheduled to go on for three weeks, the report added.