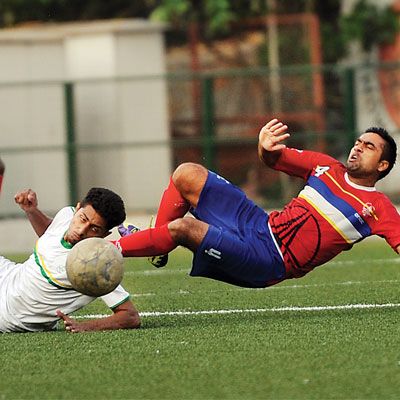 Make the opposition fight for possession and tire them out. A simple plan that proved effective for the ONGC as they trounced RCF 4-0 in the MDFA Elite Division Play-off at the Cooperage Ground, Colaba on Friday. And the idea worked perfectly with all goals scored in the second half.
ONGC's Joel Sequeira and Kailash Patil came close to scoring in the first half. The team even got a penalty in the 42nd minute — courtesy a handball in the box but Parwinder Singh fired straight at the bar.
But they had to wait for the second half for the first goal. Lavino Fernandes taking just eight minutes after break to give ONGC a well-deserved lead. It was one-way-traffic from there with majority of play happening in RCF's box. Fernandes added his second of the game in the 68th minute.
It turned from bad to worse for RCF three minutes later as Parwinder Singh made the most of lacklustre marking scoring from a free kick near the corner flag. RCF were struggling to keep pace, the manner in which they conceded the goal showed they had mentally given up on the match.
Kailash Patil added insult to injury scoring his side's fourth in the 80th minute. Fernandes had a good chance to notch his hat-trick with a chance towards the end but blazed his shot well over the bar.