Spectators clearly in poll results mood as they carry banners and placards into the stadium and chant their leader's name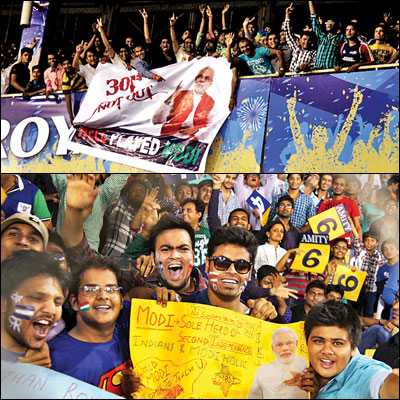 While the answer to the most-asked question about the existence of a Modi wave will be out on Friday, the spectators here at the Sardar Patel Gujarat stadium Motera on Thursday, showed support to their chief minister and BJP's prime ministerial candidate with Mexican Waves, albeit small ones.
Also, the stands that once reverberated to chants of "Sachin...Sachin" now hosted vociferous exclamations "Modi...Modi". One would have been forgiven for believing the results of general elections have been announced a day early. One would also be forgiven for wondering if he was indeed in a cricket stadium to watch IPL game between Rajasthan Royals and Delhi Daredevils.
The atmosphere here at Motera turned political with the topic of discussion being whether Narendra Modi will form a government at the Centre or not. Chants of 'modi, modi' erupted at regular intervals.
Besides, the spectators inside the stadium brought posters of Modi and even placards in support of the Gujarat chief minister.
And then it rained adding its own element to the celebratory atmosphere. But that didn't deter Modi supporters.
They claimed it was rain gods showering their blessings. It rained for 10 minutes but that break was enough for them to flood cellular phones with messages favouring Modi making it to the 7RCR in Delhi.
"Rains are an indication that the Almighty has given his consent. BJP-led NDA is coming to power," one of the messages read.
According to the met department the weather is likely to cool down with a thunderstorm over the weekend, and one of the spectators and Modi supporter Rakesh Patel said, "Modi effect is already showing its magic."
Even police on duty at the stadium couldn't stop themselves from talking about the D-day. "It is joy for these people and not so much for us. Once the match gets over, these people will go home and sleep.
What about us? Tomorrow is a big day and we need to be on our feet by 7am. And if BJP wins, it will be even more strenuous as they will organise Vijay sarghas (victory laps around the city)."
And for once, the outcome of a cricket match is not the most eagerly awaited result in the stadium.