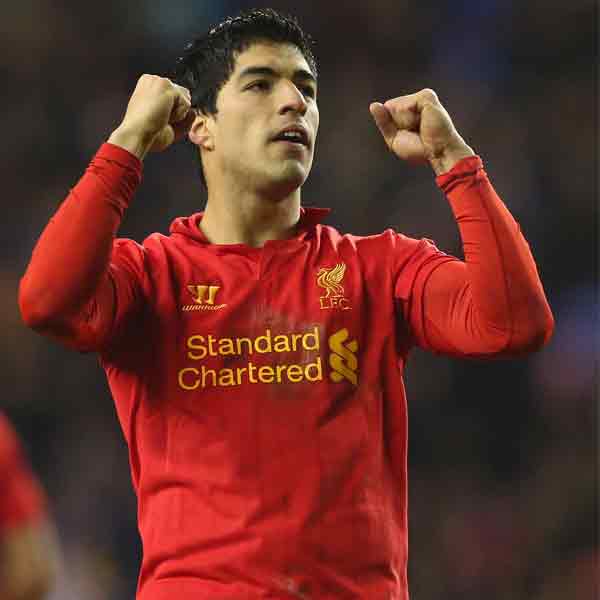 Liverpool's manager Brendan Rodgers reckoned this week that Steven Gerrard's future lies in the suppression of his attacking instincts. Put him in front of the back four, strap on an aqualung as he plays ever deeper, and watch him go, reckoned Rodgers.
However far back he plays, though, every Liverpool fan will hope their captain is always called forward when a penalty is won. With Liverpool two down here, it was his calmly steered spot kick that rescued a point for a home team. The Liverpool owner John Henry was at Anfield for the first time this season.
Sitting in the front row of the directors' box for forty minutes he must have wondered about the accuracy of the reports he was getting across the Atlantic of his property's coruscating start to the season. As Aston Villa, until now a side apparently suffering from a confidence bypass, cheerily took the initiative how he must have wished he had made it over sooner. Maybe to any of the previous seven Premier League games at Anfield, all of them won by his side.
From the opening whistle Villa appeared determined to confound expectation. In the first minute, Gabriel Agbonlahor hinted at what was to come, bursting on to Christian Benteke's flick, and driving at Simon Mignolet. His shot, however, slipped past the post. It was only temporary respite for the home side. It was 17 years to the day that Jamie Carragher made his Liverpool debut at home against Villa. And scored. How they could have done with his assurance, his calm.
Not to mention his chivvying fury at underperforming colleagues. All were missing, as Villa played entirely against expectation. With the debutant Ryan Bertrand marauding down Liverpool's right, and with Agbonlahor's pace constantly alarming Toure and Martin Skrtel, they were in control, hitting the post with Cieran Clark's smart header. In the 27th minute, Villa sealed their opening dominance. A clearance from defence found its way to Benteke who held the ball for a moment, before sending Agbonlahor in behind Toure with a deliciously inviting pass. The erstwhile England forward stretched away from the Ivorian, crossed and there was Andreas Weimann, to slide in. He looked well offside, but it was a neat finish. For the watching Henry, worse was soon to follow.
No more than eight minutes later, Agbonlahor, limping from a brusque Toure challenge, charged on to Karim El Ahmadi's pass down the line and swung in a cross which Mignolet, confused by Skrtel's presence, merely slapped on to a surprised Benteke. The Villa man - recently bereft in front of goal - temporarily stilled his astonishment at the invitation to stoop and head in the second.
It was then that Liverpool's man of the season decided action was required. It had been a frustrating half for Luis Suarez. His flicks and feints weren't being read by colleagues, passes to him were too long, he suffered the indignity of being elbowed in the side of the head by Villa's full back Leandro Bacuna. His 45 minutes work was summed up when, with no one moving in front or to the side of him, he launched an up and under at the Villa defence from the half way line, the ball swirling high in the air as he slapped his hips in annoyance when no-one chased.
But Suarez is always capable of changing things. Just before half time, with Villa supporters giving a cheery ole! to every pass, he decided enough was enough. He galloped at the Villa defence, spearing a pass at Henderson, whose beautifully timed back-heel sent in Sturridge to bring one back. Sustained by his half-time tea, Suarez set about Villa in the second half with his customary dash. In the 51st minute he charged into Villa area and was brought down by Brad Guzan with the slightest of touches, Steven Gerrard dispatched the ensuing penalty.
By now, the sound emanating from the directors' box was closer to purring. Without ever dominating, Liverpool appeared to be finding their rhythm. Sterling began to gallop, Sturridge was full of tricks, Henderson took control of the midfield; with Gerrard moving forward at every opportunity, the one and two-touch football encouraged by Brendan Rodgers once more was in evidence. Liverpool's sense of renewal would have been encouraged by the sight of Agbonlahor limping off to be replaced by Grant Holt to make his Villa debut. The former Norwich man, on loan from Wigan, may have many qualities, but winning a sprint against Kolo Toure isn't one of them. It seemed Liverpool must win and send the boss home to Boston happy.
Yet, despite the onslaught, Villa some how clung on, seizing more of the possession, getting the ball more frequently into Holt and Benteke. Liverpool simply could not make their resurgence pay. The closest they came was in the 75th minute, when Suarez fizzed a freekick from forty yards just past Guzan's post. When Sturridge shot tamely at Guzan, the home fans began to pour for the exits in search of a quick getaway.
And Villa's fans chanted long and loud at the delicious arrival at a point few can have expected.