After the 0-4 humiliation in ODIs, MS Dhoni's men will be keen to put up a good show and turn tables in the two-Test series against New Zealand starting in Auckland on Thursday.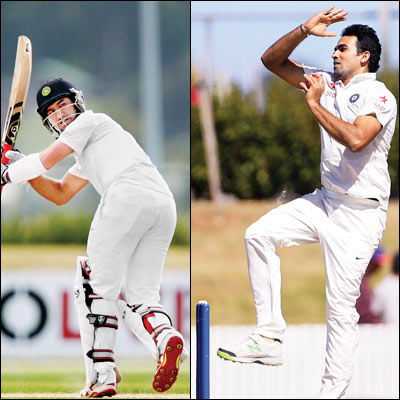 Unless you are serving a life sentence where sinking into oblivion is a big possibility, 32 months is a really long time.
Yes, that's how long it's been since Mahendra Singh Dhoni and his men tasted victory in a Test match outside the cozy environs of home. The last time such scary numbers chased the Indian team was in the eight-year period between 1993 and 2001 where they went an embarrassing 22 Tests without a win. The current sequence reads 12 and puts India at the bottom of the pile with Zimbabwe.
For the record, Bangladesh are three spots above us in this win-loss ratio table.
Not very long ago, Sourav Ganguly led a relatively raw and disillusioned bunch, hurting from the match-fixing scandal, to victory in Dhaka and, then, Bulawayo.
These are not good times for Indian cricket. Save the 4-0 triumph over Australia at home and the ICC Champions Trophy victory in England last year, Dhoni & Co. have done nothing of note since that fateful night at the Wankhede on April 2, 2011. Humbling whitewashes in England and Australia were followed by an even more shocking loss (1-2 in four Tests) against England at home.
Early exits in the tri-series Down Under and in the Asia Cup (Bangladesh) seemed trifle in the larger scheme of things. A plethora of wins over England and Australia in limited-overs cricket and comprehensive displays against the West Indies, however, took the focus away from the team's shambolic overseas record.
And then, South Africa happened. After being beaten black and blue in the three-match ODI series, India were expected to crumble in front of the world's most potent bowling attack. They didn't.
Sachin Tendulkar's absence went largely unnoticed and the young team did way better than their predecessors had. If not for that partnership between Faf du Plessis and AB de Villiers in Johannesburg, and an exhibition of reverse-swing bowling by Dale Steyn in Durban, India would have drawn or even won the series. But nobody faulted a young Indian team for losing 0-1.
India's lovely little trip to New Zealand was supposed to be as enjoyable as a bungee-jump. Before the start of the series, every other preview analysis started and ended with a cursory look at the rankings. No. 1 vs No. 8 in ODIs and No. 2 vs No. 8 in Tests. The manner in which Brendon McCullum outwitted Dhoni prompted many an expert to quip the unthinkable: has Midas lost his bearings?
But in spite of the 0-4 beating our boys took in the five-match ODI series, all doesn't seem lost. The arrival of Cheteshwar Pujara, Zaheer Khan and, to some extent, Murali Vijay, soothes our collective nerves. Words like solidity and dependability occupy our mind space.
Truth to be told, this bunch takes its Test cricket very, very seriously. They hate to be branded 'tigers at home and pussycats abroad'. They despise it.
The last time India visited New Zealand in 2009, they won a Test series there nearly 42 years after MAK Pataudi's side had registered a 3-1 victory. In other words, there's more than just hope. This team will not be bogged down by a belittling ODI series loss.
In Dhawan and Vijay, Pujara and Kohli, Rohit and Rahane, they have batsmen who can leave the ball at will or hit it all over the place all day long. In Dhoni, they have a leader who knows what his plans are. In Jadeja, they have a restrictive but wicket-taking spinner who needs to prove that his three first-class triple hundreds were no fluke. And in Shami, Zaheer and Ishant, they have pacers who can be deadly on their day.
And mind you, even if India manage to draw the series, if not win it, they will retain their second position in the ICC Test rankings.
ODI scorelines can be deceptive. Sometimes, they mean nothing. This team will make you smile again. So then, let the Tests begin.
All-round view
​As India take on the formidable hosts New Zealand in a two-match Test series starting on Thursday, dna brings you incisive analysis of each day's play by former India all-rounder Ajit Agarkar. Keep reading these pages for the Mumbaikar's all-round views, anecdotes and insights on the battle in the Southern Hemisphere.