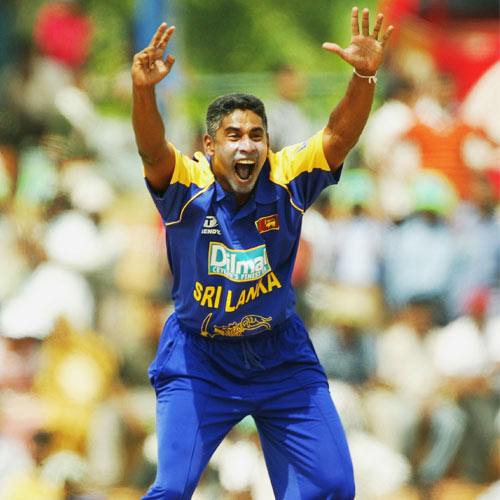 There are a lot of similarities between former Sri Lanka opening bowler Chaminda Vaas and India's Zaheer Khan. Apart from being left-arm seamers, the duo has possessed the same skills and style of bowling.
They have walked a similar path for their respective teams too. From being the lead bowlers to falling out of favour and then making dramatic comebacks with hard work, passion and hunger to play for the country. They share the love for county cricket in England too.
With so much common between the two, Vaas, a much senior bowler with 355 Tests and 400 ODI scalps, is not in touch with Khan but will certainly have his eyes on India's tour of South Africa where Khan will make a comeback. And he is sure that Khan will deliver the goods.
"When I saw him a couple of years back, I thought he was going to finish his cricket. His fitness and bowling were not up to the mark, but he is a strong and determined lad," Vaas told dna on the sidelines of an event organised by Wills Realtors.
"I have seen his recent pictures. He has lost a lot of weight and is keen to get back into the team and perform. He knows his abilities and knows what is expected from him. Being a fast bowler, you need to be patient and in the mean time handle pressure and perform well in international cricket," the 39-year-old added.
Vaas is expecting Khan to do well in South Africa. "He has proved himself everywhere. He has done well on English and South African pitches. The conditions in South Africa will be seamer-friendly and I am sure he is going to do well for India there," said Vaas.
Khan is 35, but Vaas feels age won't be a factor. "It is only in the subcontinent that we look at age.
When you are past 32, people think his cricket is finished while players from other countries play Test cricket till 35-36. In Australia, some start at 32. If you have proper fitness and are keen to perform, then age is not a barrier and you will do well for the country. Sir Richard Hadlee played for New Zealand till the age of 40. If fit and performing extremely well, then why not? I feel Zaheer can play international cricket for another two to three years. I feel he has a lot of cricket left in him and I wish him all the best," he said.
Like Khan, Vaas has also played a lot of county cricket in England for different teams and felt it helped him a lot.
"It's not easy for a fast bowler. Out of seven days, you play six days a week for six months. There are 16 four-day games, 12 pro-40 matches and then 12 Twenty20 ties. It a great experience playing. It's not easy to pick up wickets. You have to be patient and bowl from one side and take wickets. To realise how important county cricket is, I would want every player to play at least one season," Vaas added.