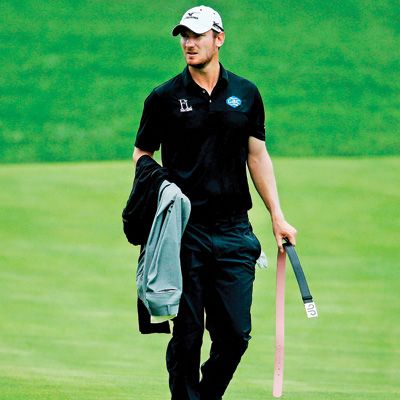 Wood's tryst with greens and greens
The six-foot-six-inch Chris Wood of England had shot just shot his best at a Major in US – a five-under 66. But his interview was mostly about the different pants he changed during the round. How many? The answer: Four. On the 11th, his second, he tore the pants in the place you don't want and his underpants were visible. Wood said, "They all can see my underpants. So, it was quite embarrassing." He added, "We weren't too sure of the rules of golf. You have got to be careful these days. We asked if I could borrow Johan Kok's pair of waterproofs because we didn't have ours. So I put his on, which were obviously a little bit short for me." He played No. 12 with it and on the 13th, he changed into his own rain pants. In between, on 13th itself, he ducked into the Golf Channel studio, took his trousers off and put my waterproofs on. Meanwhile, his manager, Stuart Cagey met him on the 17th tee – he rushed back to the hotel, went to Wood's room and got new pants, which lasted the round.
Captain Watson going strong
Tom Watson may be just four weeks away from turning 65 but he is still playing great golf. The United States Ryder Cup Captain, Watson, who won the 2011 Senior PGA Championship at Valhalla, parred the first 15 holes in the opening round. He bogeyed No. 16 but parred his final two holes for 72. Watson is now ranked second in scoring average among those who have played 100-plus rounds in the PGA Championship. His scoring average is 71.72 (114 rounds) behind Jack Nicklaus's 71.37 (128 rounds).
Stricker assistant captain for Ryder Cup
Steve Stricker will be one of Watson's three assistants at the Ryder Cup in Gleneagles, Scotland, from September 26-28. The two previously announced vice-captains are Andy North and Raymond Floyd.
Stricker has played three times in the Ryder Cup and five times at the Presidents Cup. He is now playing the first and second rounds with captain Watson. And both Watson and Stricker will get a good look at one their key rivals, Sergio Garcia, a man in form and also one Europe will look up to for crucial points.
Westwood's best-ever
All things point to a good Lee Westwood finish at these PGA Championships. But he no longer wants a good finish – he wants a win. Westwood's first 65 was his best in 53 PGA Championship rounds and it tied his lowest single-round score in any major (third round in 2011 US Open). Westwood's nine birdies was the highest by any player on first day when 53 players were under par. This is the first time Westwood has led any round of the PGA Championship, but he is coming off a final round 63 in WGC-Bridgestone on Sunday. Interestingly, Westwood missed the cut in the 2014 US Open and Open Championship.