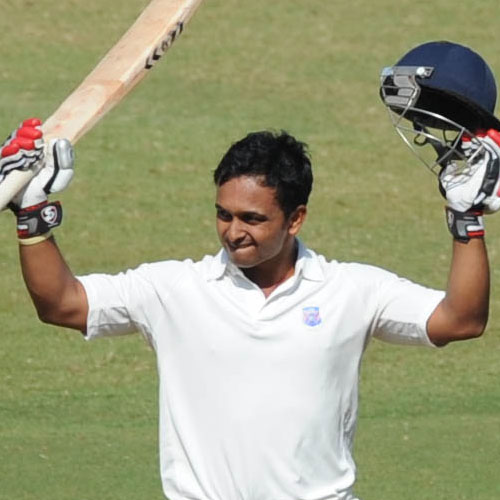 Moments after pulling Shardul Thakur to the square leg boundary for the winning runs for Maharashtra, centurion Kedar Jadhav turned back to pluck out a stump as a souvenir. He had just ensured that his team entered the Ranji Trophy semifinal, awaiting the winners of the Bengal-Railways match in Indore to be played from January 18.
There were no wild celebrations like jumping in the air or running into the arms of the ecstatic Maharashtra team-mates. Jadhav, his partner Vijay Zol, and the rest of the Maharashtra camp knew that there were potentially two more matches to be won before celebrating big.
Everything fell in place for Maharashtra here. After conceding a first innings lead of 122, their medium-pacers, backed by some extraordinary slip catching, brought them back into the game by skittling out Mumbai for 129 on Friday. Faced with a challenging target of 252, 28-year-old Jadhav and 19-year-old Vijay Zol ensured that Maharashtra crossed the line comfortably with plenty in hand in terms of wickets and sessions.
Coach Surendra Bhave, who has shaped up this team into a winning unit this season, said after the convincing eight-wicket win: "Beating Mumbai in Mumbai is big," he said. "Hats off to the lion-hearted efforts of the players. At the start of the season, I was preparing the boys for all the teams in the competition and that Maharashtra bowlers will bowl all of them out. The line our bowlers bowled here was very tight outside the off stump."
Bhave had a challenge at the start of the season. "It was important that the players believe they can win and I gave them that confidence. I knew that we have four to five players who averaged in the 50s but wanted them to collectively contribute to the team," the former national selector said.
By sheer number, the 215-run unbroken stand for the third wicket between Jadhav and Zol dwarfs all other useful stands in the match. But Bhave pointed that the vital 73-run association between Shrikant Mundhe and Akshay Darekar for the eighth wicket in Maharashtra's first innings played a significant role in his team's victory.
"I wanted the team to get as close to Mumbai total as possible," he said. "It was followed by our bowlers bowling in the right areas. Once they did that, the nicks were going to happen. In our run chase, Mumbai bowling wide outside the off stump helped us actually."
Bhave lauded Jadhav and Zol for their match-winning partnership. "Kedar has been outstanding for us the last three to four seasons. This year, he has matured that much more. By nature, Vijay is very aggressive. Kedar helped him quietly to control that instinct. Vijay is a damn good player wicket-to-wicket."
Complimenting Maharashtra's morale-boosting victory were Mumbai stalwarts among whom were Madhav Mantri, Vasu Paranjape and Milind Rege. Mantri and Paranjape congratulated the team in the dressing room. Bhave said: "While Mantri told team that this young side could become more formidable, Paranjape said 'now that you have beaten Mumbai, you should not lose to anybody else."