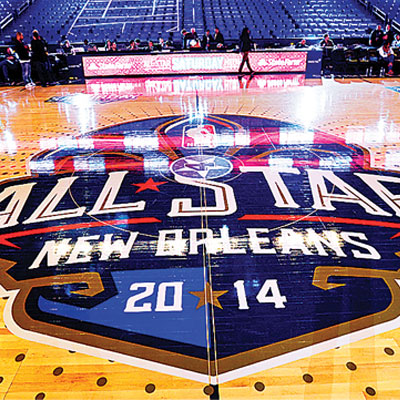 Even as the United States of America is going through a cold wave with parts of the country blanketed by snow, the southern part is gearing up for the NBA All Star Weekend.
It is that time of the National Basketball Association league where the teams take a break from their hectic schedule and indulge in festivities that culminate in the All Star game on Sunday. This is the 63rd edition of All Star Game and New Orleans, a major port city in Louisiana State, at Smoothie King Centre, which gets to host for the second time and the first since 2008.
Even as the stars begin to arrive for the weekend extravaganza, Western Conference All Stars Kevin Love of Minnesota Timeberwolves and Stephen Curry of Golden State Warriors were among the first to arrive, the NBA fans here will be robbed of watching the legendary Kobe Bryant of LA Lakers in action.
The 35-year-old two-time Olympic gold medallist, originally voted to the Western Conference All Stars starting line-up by fans, has been nursing a fracture in his left knee and has been out of action in the NBA league since December. He has been replaced by local star, New Orleans Pelicans forward Anthony Davis for Sunday's game.
New Orleans has been gearing up for this All Star Weekend and is putting everything in place to make this a memorable event. Posters of the All Stars line up at major points of the city while members of the organising committee distributed beads to commemorate the occasion to visitors at the arrival lounge of the Louis Armstrong airport.
Popular events are lined up leading to Sunday's match, NBA All-Star Celebrity Game scheduled on Friday at the Convention Centre and will feature some of the popular names from fashion and entertainment industries besides the some of the best in men's and women's basketball. This will be followed by the Rising Stars Challenge, an exhibition game among rookies.
Saturday evening will witness State Farm All-Star Saturday Night that will pit Eastern Conference and Western Conference teams in four contests, all for raising money for charity, and an All-Star jamming session. Of course, there is the dunking contests and all those that encourage youngsters to take to the sport.
With temperature in New Orleans hovering around the single digit mark (in degree Celsius), and thankfully not below zero, unlike in other states, the basketball fans should feel better as the events leading to the Sunday showdown heat up the city.
All Star Squads for Sunday showdown:
Eastern Conference All Stars:
Starting 5: Dwyane Wade (Miami Heat), Kyrie Irving (Cleveland Cavaliers), LeBron James (Miami Heat), Paul George (Indiana Pacers), Carmelo Anthony (New York Knicks),
Reserves: Joakim Noah (Chicago Bulls), Roy Hibbert (Indiana Pacers), Chris Bosh (Miami Heat), Paul Millsap (Atlanta Hawks), John Wall (Washington Wizards), Joe Johnson (Brooklyn Nets), DeMar DeRozan (Toronto Raptors).
Head coach: Frank Vogel (Indiana Pacers)
Western Conference All Stars: Starting 5: Stephen Curry (Golden State Warriors), Kobe Bryant (Los Angeles Lakers), Kevin Durant (Oklahoma City Thunder), Blake Griffin (Los Angeles Clippers), Kevin Love (Minnesota Timberwolves)
Reserves: Dwight Howard (Houston Rockets), LaMarcus Aldridge (Portland Trail Blazers), Dirk Nowitzki (Dallas Mavericks), Chris Paul (Los Angeles Clippers), James Harden (Houston Rockets), Tony Parker (San Antonio Spurs), Damian Lillard (Portland Trail Blazers), Anthony Davis (New Orleans Pelicans)
Head coach: Scott Brooks (Oklahoma City Thunder)
Note: Since Kobe Bryant has been injured and is replaced by Anthony Davis, coach Scott Brooks will decide on the starting 5 before the match