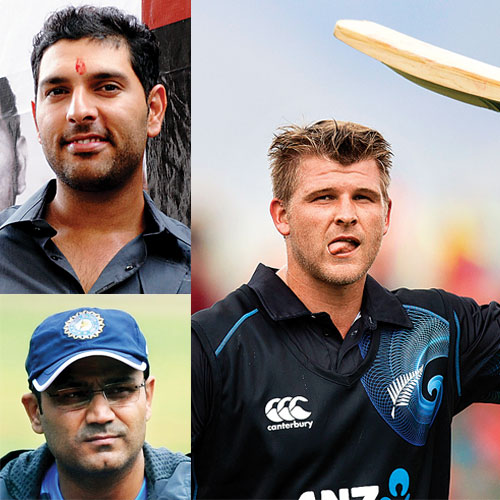 New Zealand's latest sensation Corey Anderson is expected to rake in big bucks in the upcoming auctions of the seventh edition of the Indian Premier League. It would be well justified even if he bracketed himself with the base price of Rs 2 crore. However, he has opted for the minimum price of Rs 1 crore.
It is widely expected that Anderson's price will hit the roof-top after his fastest century in ODIs and his stupendous all-round performance against India in the ongoing ODI series.
The Kiwi stands as a humble contrast to Indian veterans and discards Virender Sehwag and Yuvraj Singh who have kept their base price in the highest bracket of Rs 2 crore. While there is no doubt about the star power and crowd pulling abilities of the Indians, it would be interesting to see whether franchisees still have faith in them.
There are 46 capped Indian players in the list of 233 international players who have enrolled for the auction. The base price for capped players (in INR) are 30 lakh, 50 lakh, 1 crore, 1.5 crore and 2 crore respectively.
Australian captain Michael Clarke, who was expected to lead one of the teams, has pulled out from the auction.
Ashes Hero Mitchell Johnson's base price is Rs 2 crore and his England rival, Kevin Pietersen are among the other international players who have a base price of Rs2 crore for the auction. Retired cricketers, Mike Hussey, Brad Hodge and Brett Lee of Australia and Protean Jacques Kallis also figure in this top category as also Alex Hales, the No.1-ranked T20 batsman in the world from England.
Dinesh Karthik, who was widely tipped to be retained by Mumbai Indians, has also kept a base price of Rs 2 crore.
One of the highest paid in the previous auction, Yusuf Pathan has bracketed himself in the top price bracket despite three pathetic seasons with the Kolkata Knight Riders. Swing bowler Praveen Kumar, leg-spinner Amit Mishra, left-arm spinner Pragyan Ojha, Test opener Murali Vijay, Bengal's Manoj Tiwary and Karnataka veteran Robin Uthappa are the other capped Indian players in the highest bracket.
Indian fast bowler Varun Aaron is missing from the list and is possibly trying to keep himself from an injury in the demanding league.
Veteran seamer Zaheer Khan, Test specialist Cheteshwar Pujara, talented Bhuvneshwar Kumar are in the Rs 1.5 crore bracket.
Australian chinaman bowler Bradd Hogg is the oldest player at the auction at 43 with a base price of Rs 1.5 crore while T20 freelancer Brad Hodge has kept his base price at Rs 2 crore.
Prominent players and their base prices
Indians (Rs 2 crore): Dinesh Karthik, Praveen Kumar, Amit Mishra, Ashish Nehra, Pragyan Ojha, Yusuf Pathan, Virender Sehwag, Yuvraj Singh, Saurabh Tiwary, Robin Uthappa, M Vijay, George Bailey, Brad Haddin, Brad Hodge, Michael Hussey, Mitchell Johnson, Brett Lee, Shaun Marsh, James Pattinson, Steven Smith, Mitchell Starc, Alex Hales, Samit Patel, Kevin Pietersen, Brendon McCullum, Ross Taylor, Jacques Kallis, Tillakaratne Dilshan, Mahela Jayawardene, Angelo Mathews, Marlon Samuels
Rs 1.5 crore (Only Indians): Zaheer Khan, Bhuvneshwar Kumar, Cheteshwar Pujara, Irfan Pathan, Ishant Sharma
Rs 1 crore (Only Indians): Parthiv Patel, Mohit Sharma, Ashoke Dinda, Wriddhiman Saha