Mitali Raj & Co pull off a stunning win in their first Test in 8 years; with 8 newcomers in the squad, India beat England by six wickets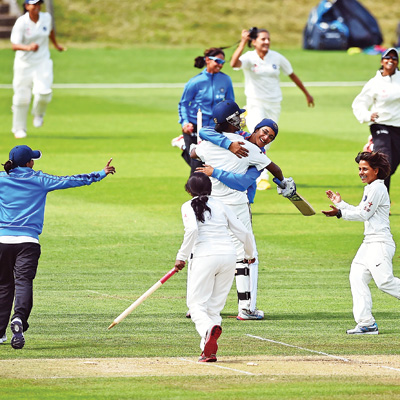 Mahendra Singh Dhoni's men went to England high on confidence and amidst fanfare. However, not many gave Mithali Raj-led women's team, playing a Test after eight years, any chance and the customary pre-departure press conference did not attract many journalists either.
However, the Indian women, with 13 newcomers in the squad and eight debutants, pulled off a pleasant surprise with a win in the one-Test series against England on Saturday while Indian men are struggling to save the match and their reputation against Alastair Cook & Co.
Indian eves registered a six-wicket win over Charlotte Edwards-led England in an one-off Test and won the series at Sir Paul's Getty Ground, Wormsley, on Saturday.
The four-day Test was an exciting affair where India were set 181-run target in the second innings. Riding on half centuries from Smriti Madhana (51) and Raj (50*), the visitors chased down the total four wickets down in 95.3 overs.
Earlier, seamer N Niranjana dazzled with a four-wicket haul to fold out England for 92 in the first innings while India posted 114. The hosts, in the second innings, scored 202 with spearhead Jhulan Goswami scalping four for 48, and set India a target of 181 runs.
Captain Mithali Raj was happy with the win. "Its a happy feeling. Very thrilled. We are even more happy because we won the Test with 13 newcomers in the squad against a team that had won the Ashes. Beating England in England is a great feeling," Raj told dna before heading for shopping with her teammates in Wormsley.
"It was difficult for us especially because we played more limited overs games. We were moulded playing one-dayers and T20s, getting back to Test cricket was challenging since we had to train and prepare in that mode," she added.
The 31-year-old said she was not under any pressure despite playing a Test after eight years. "There was no pressure. It was challenging though since we were an inexperienced side with 13 new players and only three of us had played Test.
"It was challenging since I had to guide them, make them understand the tactics, how to bat and bowl in Test and they responded beautifully," she said.
The veteran batswoman said the girls have proved their potential and want to play more Tests.
"The girls have showed a lot of positivity towards the format. It depends on the BCCI to accept it and give us more games. We have shown the potential. Every cricketer dreams of wearing a Test cap and I told them how fortunate they were. Hence, I asked them to enjoy themselves," she said.
With the way Dhoni's men are struggling against the English, was there any pressure on women to deliver the results? "We did not think on those lines. We saw the men's game to some extent. Watching the conditions and how the wickets behaved and how we should play. We were concerned more about our series and gave more time to it," said Raj.
"The men's defeat was not a motivation for us to win. Our girls were more keen on winning the match since they did not want to lose this opportunity which they got after eight years. We were not thinking on that perspective and believed in the simplest thing. Kept calm and performed irrespective of what is followed or who is saying what," she added.
Coming to her own individual performance, Raj, who guided India's chase, said she is happy with herself.
"These situations are not new to me or something out of the blue. It's been a part of my career and I think I am enjoying it now," said Raj, who will now lead the team in One-dayers starting from August 21.
Brief scores: England 92 all out & 202 (S Taylor 40, J Gunn 62*; J Goswami 4/48, E Bisht 2/33, S Pandey 2/33, S Sharma 2/22) lost to India 114 & 183 four four (S Mandhana 51, M Raj 50*, S Pandey 28*; K Cross 3/42) by six wickets