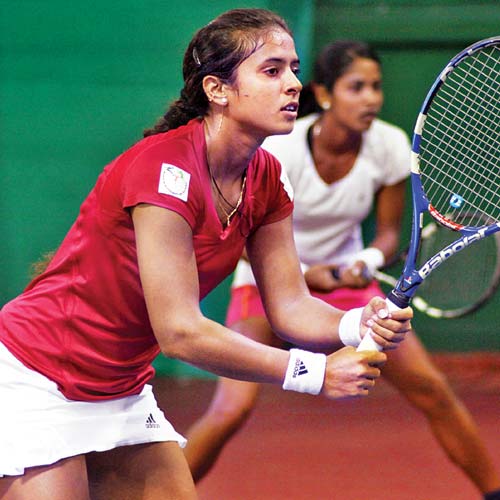 Ankita Raina and Prarthana Thombare of India entered the second round in doubles after defeating Sharmada Balu and Sowjanya Bavisetti of India by 4-6, 6-2 and (10-8).
But other Indian players failed to live up to the expectations. Vasanti Shinde and Sharmada Balu lost in the first round.
Second seeded Diana Marcinkevica of Latvia and third seeded Gioia Barbieri of Italy scored contrasting wins to enter the second round in the singles event at the $25000 Ganesh Naik ITF Women's Tennis Championships organised by the Navi Mumbai Sports Association (NMSA) at the Ganesh Naik Tennis Complex in Vashi. The tournament will conclude on December 14.
In the opening round, the 229th world ranked Marcinkevica gave a lesson in tennis to young wild card award Shinde by defeating 6-1,6-4 in a 1.15 hours tussle.
While 263 world ranked Barberi lead 7-5, 2-6, 2-0 before Serbian Tamara Curvoic retired due to exhaustion.
Thai girl Plipuech Peangtam outplayed Russian Anna Morgina 6-0, 6-0 in just 48 minutes and moved into the next round.
In the doubles first round, second seeds Ksenia Palkina of Krgysztan and Jade Windley of Great Britain combined well to oust Indian wild card entrant pair of Rutuja Bhosale and Rishika Sunkara 6-2, 6-4 to make it to the last eight.
Raina and Thombare defeated Balu and Bavisetti of India by 4-6, 6-2, (10-8).
The important match of Tuesday was Nidhi Chilumula of India with Magda Linette of Poland. Magda is the top seeded player with ITF ranking 149.