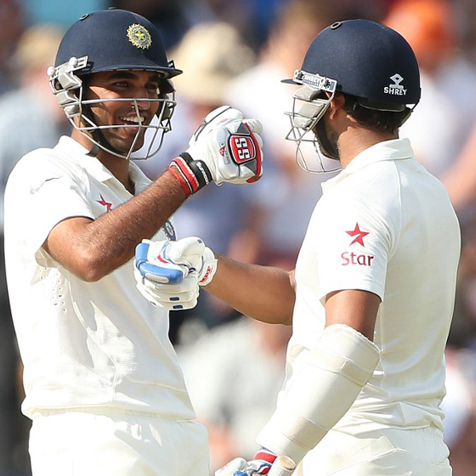 The Indian 'tail' wagged appreciably as a fine rearguard action by the last-wicket pair of Bhuvneshwar Kumar and Mohammed Shami took the visitors to 457 all out on the second day against England in the first cricket Test in Nottingham on Thursday.
India's new ball bowlers added 111 for the last-wicket stand that helped India fight their way after a middle-order collapse reduced Mahendra Singh Dhoni's team to 346 for nine from a relatively comfortable 344 for five.
Bhuvaneshwar Kumar made 58 off 149 balls and Mohammad Shami remained unbeaten on 51 off 81 balls. The duo frustrated the England attack after Dhoni's (82) run-out sparked a collapse.
Stuart Broad (2-53) and Ben Stokes (2-79) struck after lunch. While skipper Dhoni was run-out by a direct throw from the most successful bowler James Anderson (3-109), Ravindra Jadeja (25), debutant Stuart Binny (1) and Ishant Sharma (1) were out playing poor strokes.
The session began with Dhoni (81 batting) looking to reach three-figures eventually and take India's score past the 400-mark. Jadeja had given him decent support before lunch, but was caught behind immediately after lunch, trying to cut Stokes away.
His 25 runs off 24 balls had couple fours and sixes. Two overs later, England struck twice as Dhoni set off for a suicidal single, missing a century which was there for the taking.
The Indian captain could only add one more run to his pre-lunch score and was found short of his crease by Anderson's direct throw from mid-off. He scored 82 runs after facing 152 balls, including 7 fours. Three balls later, debutant Stuart Binny (1) was dismissed by Stokes and India had lost 3 wickets in 14 balls for just one run.
It soon became four as Broad cleaned up Ishant Sharma (1) and India were yet to cross the 350-run mark.
At that point, 400 looked too far off but Bhuvneshwar and Shami showed a lot of application when it mattered.