Former captains are pained at the meek surrender to England by Dhoni & Co.; Bedi blames IPL 'for destroying Indian cricket' while stylish batsman of yesteryear is unsure of its future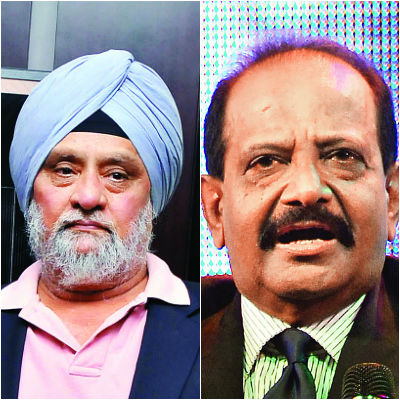 India's abject surrender Test after Test in England to go down 1-3 after leading 1-0 have disappointed former captains. While champion left-arm spinner Bishan Singh Bedi was left fuming, legendary middle-order batsman Gundappa Viswanath was completely shattered.
Speaking to dna on Monday, Viswanath said: "After the win at Lord's, I expected India to win the series. But they were totally wavered in the way they played cricket. Indian cricket is in a mess. I am not sure of Indian cricket."
The soft-spoken Viswanath is pained at the manner of the defeats that he said: "It is really boiling in me. It really hurts. The present cricketers are very good players. But they are not able to handle the situation. That is important. I was part of the side that was all out for 42 in England in 1974. It was one of those things. But in this series, these players getting all out for 152, 161, 148, 94, it is really shameful."
Bedi did not mince words when he told this daily: "Apart from Rahane (Ajinkya Rahane), every single player gives an impression of arrogance as if he has achieved everything in cricketing life. This happens because their elders (BCCI bosses) themselves are like that. The rot has started from top to bottom. Who is to be blamed? N Srinivasan or skipper MS Dhoni? Both are different sides of the same coin. Both are running Indian cricket like their private fiefdom.
"I don't think that our players now even treat cricket like cricket... This is because of the monster called IPL. Look how these same players hit balls outside stadiums at will during IPL while they can't last a single good delivery against good quality attack in Test cricket.
"This simply is because no player is interested in playing for an entire day or bowling 30 overs in a day for few lakhs, when they know that they are getting millions and millions for doing it in three or four overs. IPL has destroyed the Indian cricket."
Bedi called the body language of almost all the cricketers as "pathetic and disgraceful" after the loss. "I was shocked to see the behaviour of these 'so called' ambassadors of cricket in India. I can understand that winning or losing is part of the game, but the way they received the medallions in the post match ceremony was a shocker to me. How could they just ignore to not wish Mrs Pataudi (Sharmila Tagore) standing there? How could they just not remove their goggles or take their caps off while shaking hands with guests on the dais?," he asked.
Viswanath suggested that the way forward from the embarrassing defeats is "we have to play a lot of Test cricket". He said: "The Indian board (BCCI) also has to think about that. We have to play a lot of Test cricket instead of Twenty20s and 50-over ODIs."
The 65-year-old Viswanath questioned the role of the foreign coaches in the team. "You have a foreign coach but the same thing happens (losing overseas). What is the foreign coach doing? It cannot happen like this. I am not happy about the way our players are playing. Once in a while, it (defeat) happens but not Test after Test. They are such good cricketers that they have to back themselves. They have to come on their own. But they do the same mistakes again and again."
Viswanath said that the year-ending tour of Australia will be tougher than what Dhoni & Co. went through in England. "With the kind of scores behind them, Australian tour is not going to be easy. In fact, Australia will be tougher. There is nothing like winning. Whey they are losing, everything is going against them. Having said that, hats off to James Anderson and Stuart Broad. They really bowled beautifully. So also Moeen Ali, he deserved to get those wickets."
So what is the way out? Bedi felt that the current skipper Dhoni should be immediately sacked in order to send some serious message to other Non Performing Assets. "I was shocked to see Dhoni shamelessly answering queries post match. This is because he knows there are people there in BCCI who have to save him in order to save their own interests," said Bedi.