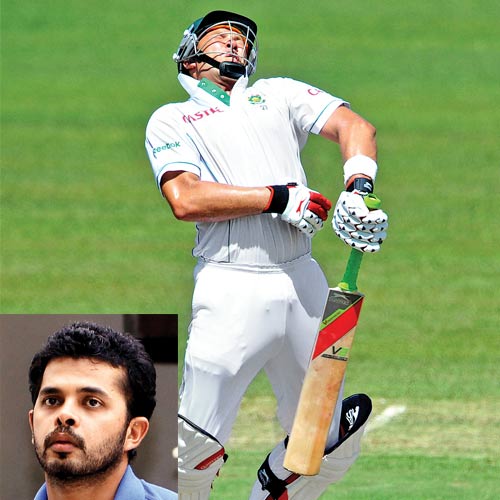 In all these years, India have won just two Tests on South African soil. But the man who played a major role in both victories is no longer part of the team. Not just that, he's nowhere in the picture.
You know all about S Sreesanth, the spot-fixing allegations and the punishment meted out to him.
So let's not go down that road. Instead, let's assess his role in those historic triumphs achieved in Johannesburg (2006) and Durban (2010).
At the Wanderers, Sreesanth had returned a match haul of eight wickets (5/40 & 3/59) as India won the first Test of the series by 123 runs. "It was a special day," Sreesanth tells dna. "I remember I had bowled well in the four-day practice game before the first Test. That match, played at Sedgars Park in Potchefstroom, did the trick for me. I must say it was a make-or-break series for me," he adds.
Sreesanth's lasting memory of the Johannesburg win is the party atmosphere in the dressing room. "The dressing room was flooded with every possible liquid we had access to (laughs). I remember the Indian flag flying high. It felt like we had won the World Cup," he recalls
The Keralite, who tied the knot with his long-time girlfriend a few days ago, also recalls his performance (1/41 & 3/45) at Kingsmead. "I treasure the delivery that got Jacques Kallis. The ball rose sharply and he had no choice but to play at it. The ball hit his glove and went to Viru paaji (Virender Sehwag) at gully.
"I must thank Sachin paaji (Tendulkar). I wasn't being myself in the first Test in Centurion. I didn't pick up a wicket (0/97 in 24 overs). Let's say I was way too sober (laughs). We lost that match (by an innings and 25 runs). Prior to the Durban Test, Sachin looked at me in the team meeting and said, 'Sree, just be yourself. Be aggressive. We have to win this match'. And throughout the Test, he egged me on from mid-on or mid-off."
Talking about the ideal length one must bowl in South Africa, he said. "You have to bowl fuller.
There is no doubt about it. Actually, the secret to success is to be a 'boring bowler'. All you have to do is bowl that out-swinger over and over again. Bowl fuller, make the batsman play and have faith in your slip cordon and gully fielder."
A lot of things have changed drastically for him since that series. Does he miss playing for India?
"That's one question I don't need to be asked. I miss it every moment."