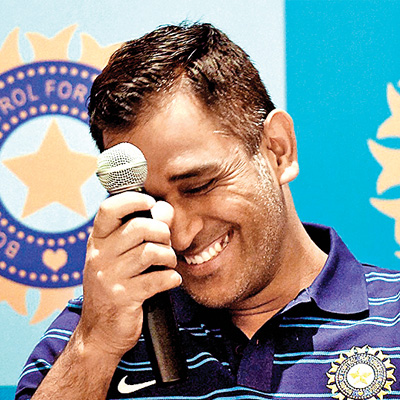 Nothing in the recent years suggest Indian captain MS Dhoni is going to have it easy during in the forthcoming five-Test series in England.
In the last three years, Dhoni has faced back-to-back overseas series defeats – England (4-0), Australia (4-0), South Africa (1-0) and New Zealand (1-0) – however, he said he prefers to take positives from the losses.
A five-match Test series and a new bunch with not much experience, Dhoni's task is cut out. He said going early will help his team know the conditions better with a couple of practice games to be played.
On the eve of their departure for a gruelling tour of more than two months that begins with first Test on July 9, Dhoni said, "This will be the first tour to England for a few youngsters but still most of our players in the Test squad have got exposure in South Africa followed by New Zealand.
"They have quite a few games behind them, they know what the challenge is. The good thing is that we are going a bit early which means we can take out time and get into the groove and have few practice games and then get into the series, which is long. I don't think we are used to playing five-Test series."
Dhoni said the focus should be on current series. "For us what's important is to forget what happened in the last series. Yes, we lost in England followed by Australia. At the same time, if I look at the last two series played outside, I think we were in situation where we could have won the game — in South Africa and New Zealand. You know we tried our best to close those games. That gives us the confidence that we can definitely win games."
India would be going with 18-member squad for the five-Test series, which Dhoni said, would help on the long tour.
"In 2011 in Tests and ODIs, we had close to nine injured players. We missed one fast bowler (Zaheer Khan) and played with three fast bowlers and a spinner which put pressure on the other players.
"This looks like a big squad but it is needed considering the duration of the tour. It increases the bench strength and you can replace injured players and also help in having quality practice session when the main bowlers take some time off," he said.
About the injured Zaheer, who is not in the squad, Dhoni said, "There is no India bowler who has the experience of Zak. Hopefully, we won't miss him."
Dhoni has not had great time with the bat in Tests and said aggression could help his matters. "As far as my batting is concerned, I need to be far more aggressive. When I am aggressive, I am better than when I try to play like a proper batsman. I intend to go for my shots from the first ball. I have to back my instincts. Six to seven batsmen when you play, it is very important to back my strength and not think too much about the situation," he said.