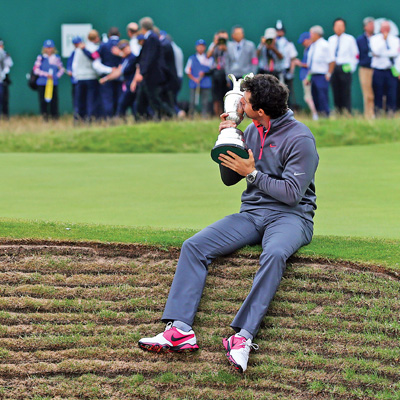 How times have changed!
Eight years ago when Tiger Woods was tearing apart the Royal Liverpool Golf Club on its return to the Open rota after a gap of 39 years, Rory McIlroy was still an amateur playing the Eisenhower Cup – the same year India's Anirban Lahiri played the event for India.
That year McIlroy also won the European Amateur Championships and the following year finished as the top amateur at the Open on his debut at a Major and turned professional a little later in 2007.
But before all that in 2005, Rory's father, Gerry McIlroy and three of his friends together, placed a 400 pound bet at 500-1 odds on the then 15-year-old Rory winning the Open before he turned 26. Rory still 25 will turn 26 on May 4 next year so this was his last chance to ensure his Dad won the bet.
On Sunday Rory saw his overnight six-shot lead reduced to two, by the Sergio Garcia (66) and Rickie Fowler (67) chasing him down the final round furiously but in the end, the Irishman with a curly mop held on for a 71, his worst of the week, to win by two shots with a final tap in from less than a foot to total 17-under 271. Garcia and Fowler were left at 15-under 273.
So, as McIlroy Junior won the Claret Jug, McIlroy Sr secured his winnings of 200,000 pounds as well.
On Sunday afternoon, when McIlroy arrived at the RLGC, it was almost like passing the baton from Woods to Rory. For it was almost at the same time that McIlroy walked into the club and Woods was walking down the 18th fairway completing his 72 holes as one of the early starters on the final day. Woods teed off at 9.45 am, around the time McIlroy probably got up from bed!
Woods shot 73 in the final round and finished at six-over in 69th place.
An hour before Woods finished a 'Senior' Tom Watson, an eight-time Major winner, who turns 65 this September, completed an amazing round of four-under 68 to end in tied 51st place, 18 spot ahead of Woods.
Watson, who has won the Open five times, the last of them coming 31 years ago in 1983, is also the Ryder Cup captain for the US team. He has the unenviable task of taking the call on whether or not to choose Tiger as one of three 'Captains' picks for the biennial event against Europe starting September 26. Woods is currently 72nd in the US Points List, with only the top-nine players making it to the team automatically.
Watson has repeatedly said he'd like to pick Woods, but that the 14-time major champion will have to play his way in. Watson this week said that it would make his decision a lot easier if Woods can make it to the Playoffs. With just four events remaining to be played, Woods needs to be inside the top-125 in the FedEx Cup standings but is currently ranked 212th having played just six events in a season curtailed by his back injury.
Despite another poor outing Woods was hoping Watson will have the faith in him. Asked if he would pick himself up if he were in Watson's position, Woods said: "I would say yes. But that's my position, my take on it.
"Well, he's the captain. Obviously it's his decision. He's going to field the best 12 players that he thinks will win the Cup back.
As for this Open, Woods was happy to get four competitive rounds under his belt as he continues to make progress with his rehabilitation following the back surgery.
"I got four rounds in. Unfortunately I didn't play very well today. I just made too many mistakes. I had two triples, two doubles and two or three three-putts this week… just way too many mistakes," said Woods.
The next tournament for Woods is the WGC-Bridgestone Invitational in two weeks.