There's more to Nagpada than just Dawood, Shakeel and kebabs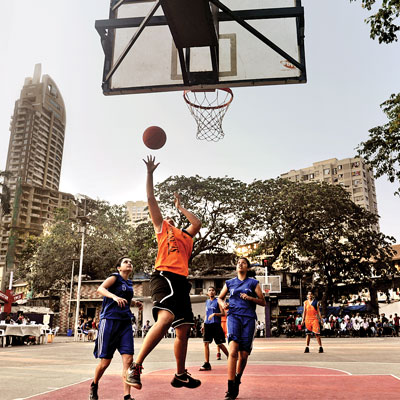 Once upon a time (in Mumbai), Nagpada was the hub of the underworld. From Dawood Ibrahim to Chhota Shakeel, Aalam Zeb to Asif Batla, everyone grew up there. For the youth in the area, resorting to crime was then an easy option as they grew up amidst sounds of gunshots and stone-soda bottle fights, better known as 'patthar-baatli'. But a particular sport ensured not all of them went astray.
Basketball came to the mohalla in the early 1940s. There were only two playgrounds in the area — Nagpada and Mastan. The latter was allotted by the municipality. The YMCA introduced the sport to the adjoining Mastan in the early 1960s, which injected a fresh spirit amongst the youth.
Locals say that in those days, every lane had a self-styled don. Some of them even visited the ground and played the sport. Asif Shaikh aka Asif Batla was one such gangster who used to sweat it out at the Mastan court.
Nasir Ansari, one of the coaches from the area, recalled playing a one-on-one with the gangster in the 1980s. "I used to come half-an-hour before the team at 5:00 pm. One day, a man wearing pathan kurta arrived and asked me, 'Will you play single with me?' That was Asif Batla and that time I did not know he was a galli ka sher (local lord). When he took off his kurta to play with me, I saw two big guns tucked in his pyjama. We dribbled, practised some hoops and then he left," recalled Ansari. "Many other gangsters used to play here. Even Dawood Ibrahim and Chhota Shakeel have been here. But they never disturbed anybody and respected the coaches," he added.
The area used to be on tenterhooks with shutters pulled down at the slightest hint of scuffle amongst the gangs. In such an atmosphere, YMCA sponsored the training and provided kits to interested kids.
Tournaments were organised on a regular basis and this paved the way for young talent, including girls. "Everyday you will find at least 17-20 children training at the Mastan ground. Since there were no other playgrounds and underprivileged kids could not afford to play any sport. This was huge for them. On top of that, in those days, companies used to employ sportspersons," said Jonas J Kumar, who works in the physical education department of Bombay YMCA, and is one of the coordinators of the ongoing Mastan YMCA open basketball tournament. "Because the area was infested with criminals, the YMCA, in a way, saved a lot of kids from treading that path," he added.
But is the place totally free of notorious elements now? "No, they are still there. Even now you will find drug addicts, but they respect the sport so much that they stay away from the area during a tournament or a training session," added Kumar.
Talking about the basketball culture among girls, Ansari stated that it becomes difficult for those hailing from Muslim families to break into a sport where they have to wear shorts. It goes against convention.
Come what may, when there is a tournament at Nagpada, the Mastan team doesn't come close. And vice-versa. "It's a big rivalry. Even if there is a IPL match on TV, the ground will be packed," added Ansari.
Afrin Sheikh, a female hoopster from Nagpada, loves the sport. Her father Rashid Sheikh, who later became a cabbie, was also a popular player. Even Gulam Abbas Moontasir, the former India captain and Arjuna awardee, hails from the area.