India suffer second consecutive defeat in HWL, lose 1-3 to New Zealand.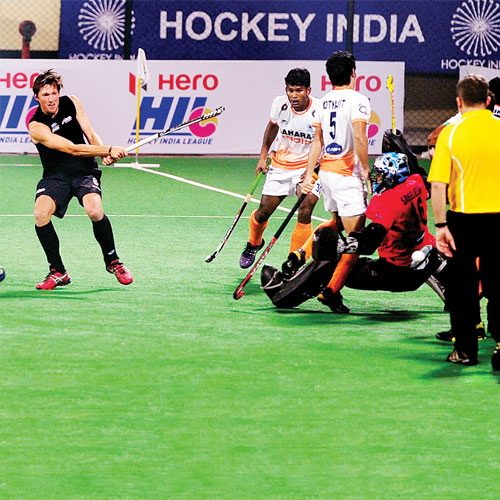 No strategy, as promised by coach Terry Walsh after losing the opener to England, was visible as a clueless India suffered their second successive defeat going down 1-3 to New Zealand in the Pool A encounter of Hockey World League at the Major Dhyan Chand National Stadium here on Saturday.
The Kiwis took the lead in the first minute through Shea McAleese who took advantage of unsettled defenders.
India, on the other hand, massed up to their opponent's half like a mob. But there was no cohesiveness in their moves and the counter attack lacked penetration. The forwards lacked any ideas and the flanks did not help them much. Initially, skipper Sardar Singh was on the bench. He decided to come only after 12 minutes of play.
The Black Sticks could have embarassed the hosts further as they dominated for the most part.
Five minutes into the second-half, the Kiwis raised their tally through Stephen Jenness who deflected a shot of Phil Burrows into the goal. Jenness scored again in the 50th minute to seal the fate of the match.
Mandeep Singh scored the only goal for India only a minute before the final hooter.
Before this fixture, England surprised Olympic champions Germany 2-1 for their second straight win in the same pool. In a Pool B game, Argentina recorded their second successive win as they defeated courageous Belgium 3-2, while the Netherlands recovered from their first match defeat to shock World champion Australia 1-0.
Stopwatch: New Zealand 3 (S Mcaleese 1, S Jenness 40, 50) bt India 1 (M Singh 68); Belgium 2 (T Boon 6, 34) lost to Argentina 3 (P Ibarra 22, M Paredes 50, F Callioni 61); Netherlands 1 (B Bakker 38) bt Australia 0; England 2 (T Carson 4, A Jackson 21) bt Germany 1 (M Miltkau 11)