In a critical condition in a hospital, the seven time F1 champion turns 45 on January 3.
It's his birthday today and Michael Schumacher is 45, but the F1 ace continues his battle for life at a hospital in France after the skiing accident that almost killed him.
A seven time world champion, Schumacher's name is synonymous with the sport. Fans, fellow drivers and the world at large offer prayers as they hope he wins this race like he has his 91 race wins a record in F1 that is still unmatched.
Michael Schumacher has numerous records to his name in the sport and is considered as the greatest F1 driver of all time a feat that his numerous race wins, pole positions and points finishes.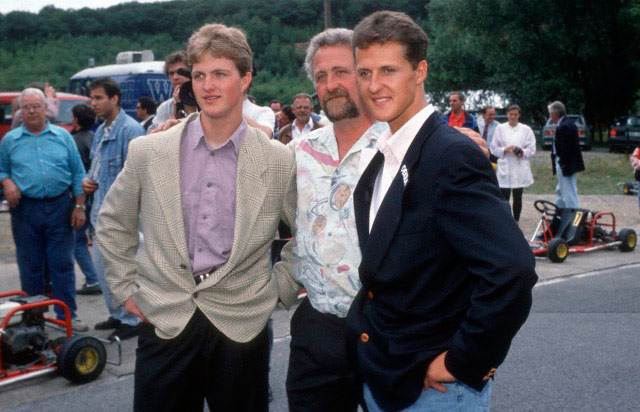 Michael Schumacher with his father Roff and brother Ralf
Born on January 3, 1969 in Hürth, North Rhine-Westphalia which was part of West Germany to bricklayer Roff and his wife Elisabeth. Schumacher was introduced to motor sport by his father who made him a kart when he was 4 and he went on to win his first karting championship at 6.
Having raced in many German and European karting championships on his way to lower motor sport racing categories as he got his F1 break in 1991 having raced in Le Mans the previous years.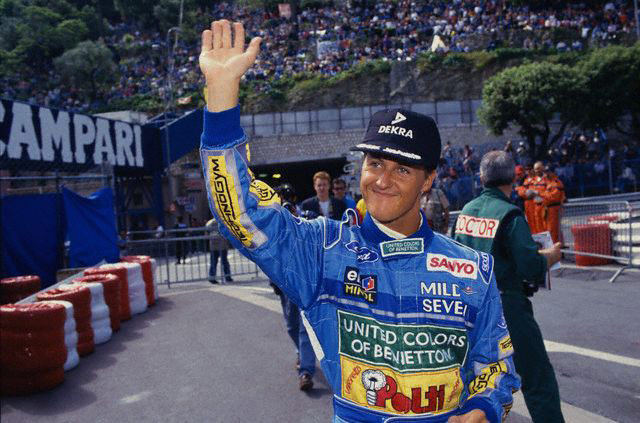 Michael Schumacher during his early racing days
At the 1999 Belgian GP, Michael Schumacher made his F1 debut, a race that would later go on to become one that he won multiple times and loved racing at. Schumacher was stepping in for Bertrand Gachot who was imprisoned.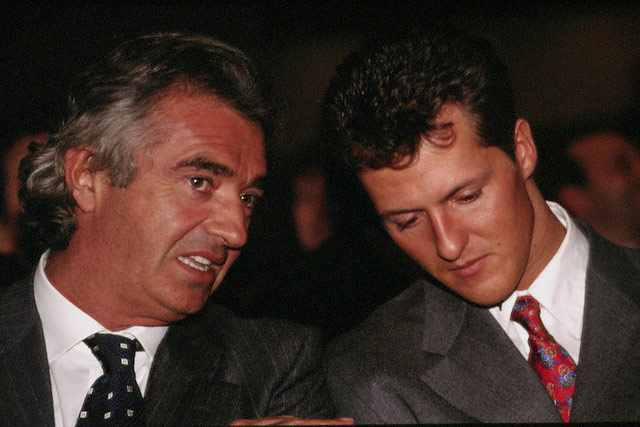 Flavio Briatore and Michael Schumacher
After an impressive debut race, Schumacher was signed by Benneton-Ford where he would race from 1991 to 1995 and win two F1 World Championships along the way. Flavio Briatore worked closely with the German driver and the duo were a great combine in the 1994 and 1995 seasons where Schumacher won two of his seven world titles a record in F1.
Schumacher moved to Ferrari in 1996 and would race with the team till 2006. This period would become immortal in the sport as five titles for the team which would become a legend in the sport thanks to the Ferrari-Schumacher combine that dominated the sport.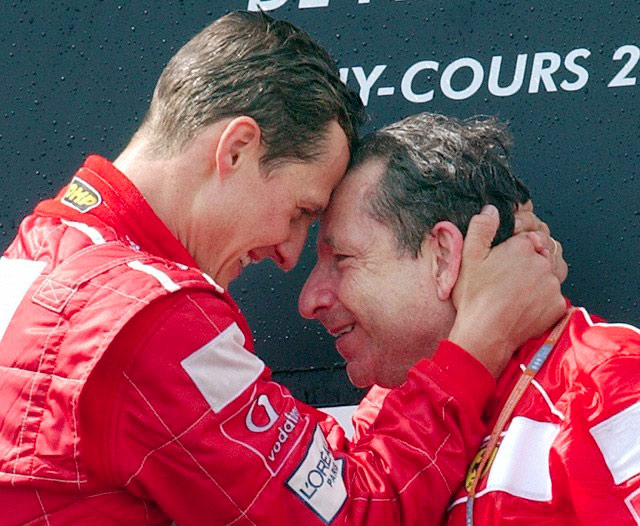 Michael Schumacher with Jean Todt
Before Schumacher came onboard at Ferrari, the legendary F1 team had won the drivers' championship in 1979 and the constructors' championship in 1983. With Michael Schumacher ex-Benetton employees Rory Byrne and Ross Brawn also made the move to Ferrari, the duo along with Jean Todt would form the combine that made Schumacher's F1 car bullet proof and help him win five more titles on his way to F1 glory.
The 1997 title was lost to Jacques Villeneuve as Mikka Hakkinen won the title in 1998 and 1999 but Michael Schumacher would reignite the fire and win titles on the trott in 2000, 2001, 2002, 2003 and 2004.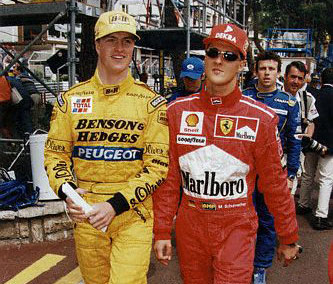 Michael and Ralf Schumacher
Ralf Schumacher his brother always lived in his shadow as he was unable to match the heights his brother reached in the sport, an average driver Ralf retired from F1 in 2007. The younger Schumacher won 6 races and drove in F1 from 1997 to 2007 as he had 180 starts and achieved 27 podium finishes.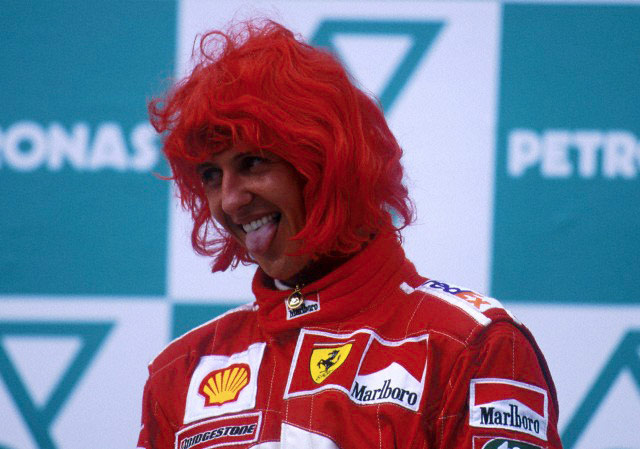 Nicknamed the 'Red Baron', 'Schumi', 'Regenkönig' (rain king) or 'Regenmeister' (rain master) Michael Schumacher created an awesome buzz among the Ferrari fans and F1 lovers around the world.
The F1 fans of Ferrari called the 'Tifosi' swarmed all the races to support Schumacher and Ferrari.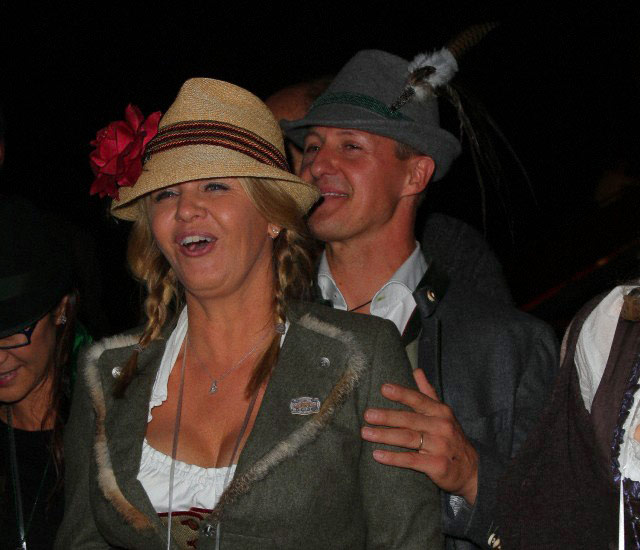 Corrina and Michael Schumacher at Oktoberfest in Munich in 2013
In August 1995, Michael Schumacher married Corinna Betsch and the couple have two children a daughter Gina-Maria born in 1997 and Mick who was born in 1999.
When he met with the accident during skiing a few days ago, Schumacher was with his son Mick.
On the F1 circuit Michael Schumacher retired from Ferrari after the 2006 season and then made a comeback in 2010 with Mercedes.
After his return to F1 after a break of four years, Michael Schumacher struggled in his car and was beaten by the much faster and younger drivers as he failed to win another race or title.
Michael Schumacher retired again in 2012 after his unsuccessful comeback. In the 2013 season, Schumacher's name has come up many times thanks to his countryman Sebastian Vettel who has raised comparison to the F1 ace by winning his fourth F1 title.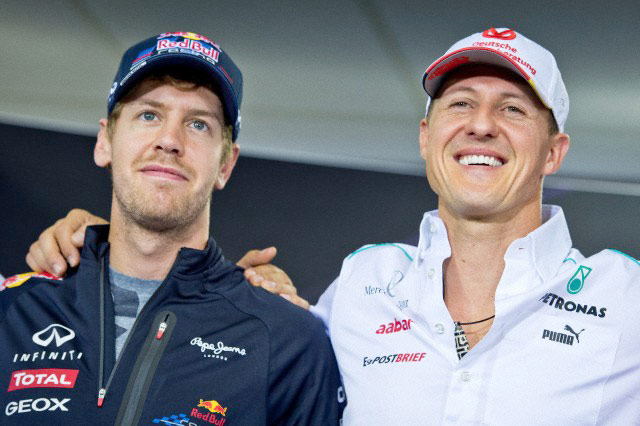 Interestingly, Schumacher had presented Vettel a prize when the latter was a kid in his karing days, the duo have also raced together at the Race of Champions representing Team Germany and have won the competition.
On his 45th birthday, Michael Schumacher's friends, family, fans and well wishers send him a wish as they say a prayer hoping that he gets well soon and returns to health.