KXIP coach Bangar says the Aussie alongwith Miller has made it look easy for their team so far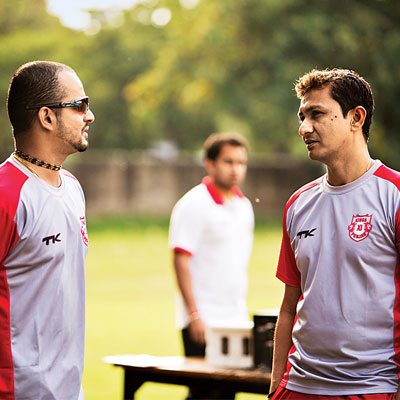 Sanjay Bangar stands out among the coaches this IPL. He is the only Indian to lead a team of support staff, guiding the fortunes of Kings XI Punjab, while all the other seven teams have a foreigner at the helm.
Bangar could not have asked for a better start to his first experience as an IPL team coach after playing 11 matches for Deccan Chargers in the inaugural edition in 2008 and one game for Kolkata Knight Riders the next season. Glenn Maxwell and David Miller have made it easy for the reserved and unassuming all-rounder of yesteryear.
He does not make public his emotions like some of the other coaches and quietly goes about his task. The 41-year-old Mumbaikar who played for Railways for nearly two decades in domestic competitions is hoping that Maxwell and Miller continue in the same vein as they did, guiding Kings XI Punjab to successful run chases.
"Maxwell is a quality player and is in a really good form. We hope that he does well and remains consistent," said Bangar of the Victorian who scored 43-ball 95 and 45-ball 89 against Chennai Super Kings and Rajasthan Royals, respectively, in the first two matches.
Asked what he would tell Maxwell and Miller when chasing tall scores, Bangar kept it simple. "I leave it to their personal decisions. We do try and work out areas wherein we set some patterns, some processes and goals. Having said that, the wickets here have been batsmen-friendly and Sharjah is obviously a smaller ground. It is good that the team is batting well," said Bangar, who played 12 Tests and 15 ODIs between 2001 and 2004.
Having said that, Bangar maintained that "both Maxwell and Miller are very very skillful players because to execute those shots under pressure situations takes amazing skills. I just feel Maxwell is a special talent. We are fortunate we have those sort of players in the team."
Indeed fortunate, and KXIP have to be thankful to Mumbai Indians for releasing Maxwell before this year's auctions.
While Maxwell and Miller have been the key to KXIP's early success, discarded Indian batsman Virender Sehwag is yet to fire. Bangar is not actually worried about the Delhi Dasher. "Whoever comes into the side, comes with an intention of trying to do well and playing to his potential. Sehwag is no different. For me, he is still batting well. He is working on all aspects of his game. It is just a matter of time before he gets a good knock," said Bangar.
Bangar, who has taken charge of India 'A' since his retirement early last year, said that "challenges are far bigger" coaching in IPL. "It is quite a complex thing. All the players assembled from various parts at a very short time. We are trying to know each other better by dining together among other things."
Bangar is pleased with the overall composition of the team that is led by Australian George Bailey and also the Ashes hero Mitchell Johnson as his lead bowler. "Obviously, you just have to optimise the resources. There are going to be times when the bowlers will get slightly helpful pitches. There are going to be days when their performances will stand out. We need to be patient," said Bangar.
He added that things won't change drastically when the IPL returns to India on May 2 after the UAE leg concludes on April 30.
"Conditions in UAE are pretty similar to India. I think some pitches in India will help the bowlers a bit. It is just that every team has to cope with the pitches in their own way," Bangar said when asked if things could change when the league returns home.