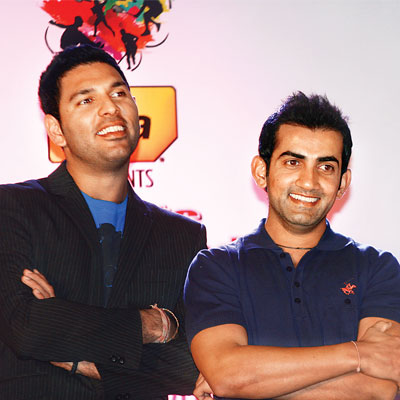 Shortly after India lost their World T20 final in Dhaka on Sunday night, a few fans pelted Yuvraj Singh's house with stones for letting the country down by scoring 11 off 21 deliveries. All of a sudden, India's match-winner turned into a villain on the basis of just one game.
However, this has not gone down well with Yuvraj's own teammates. And Gautam Gambhir is one of them. Having played alongside Yuvraj for over a decade at junior and then in senior level, Gambhir vows to "again vigorously bid for Yuvraj if Indian Premier League auctions are held again because he is the greatest match winner for India in the past".
Speaking in support of Yuvraj on Tuesday, Gambhir said: "This is media that has attacked Yuvi and I feel we need to be careful about what we say about a player like him. He has been (one of) our greatest match-winners in limited overs cricket.
"During the (February) IPL auction, we were really chasing Yuvi till about Rs13 crore but Royal Challengers Bangalore won the bid. But let me put it in this way, if there are auctions today again, the Kolkata Knight Riders (KKR) would again bid for him in the same aggressive manner. This is because we all know that he is our greatest match-winner till date in the ODIs," added Gambhir in the same breath.
Gambhir was India's top-scorer in the 2007 World T20 in South Africa, but has been struggling to regain his place in the Indian team. He said that he would not agree that India are becoming over dependent on Virat Kohli now, something similar to the 1990s when the team was reliant on Sachin Tendulkar.
"Cricket is a team game and is won by 11 players and lost by 11 players. Even during Sachin's time, it was not the case and even now, it would be wrong to say this," said the KKR skipper, adding: "In a T20 game, only one or two batsman get to play a sizeable number of deliveries and the rest chip in with small contributions in the remaining few deliveries."
Gambhir said that he has no time to dwell over "why he is not getting a national team call" as he is busy preparing for the upcoming IPL. "Where is the time to think about all these? My focus is on the upcoming IPL games and am excited to be able to play in UAE where I've not played so far. Teams will not have any advantage or disadvantage on those neutral venues. So, it will be equally tough for everyone," said Gambhir.