Former NBA player Muggsy Bogues says he grew up experiencing lawlessness in Baltimore and that basketball was his release.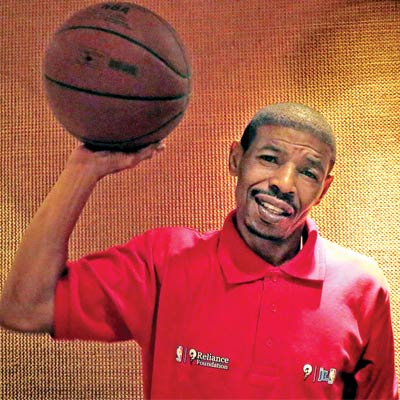 He spent his childhood dodging bullets and was shot on his arm when he was five. His life was no less than film noir but "a little round object – basketball – saved his life," he says. Five-foot three-inch Muggsy Bogues might be known as the shortest basketball player in the history of National Basketball Association (NBA) but what the world doesn't know is that he grew up with criminals, his father being one of them.
In Baltimore city in the US – known for violence, racial discriminations, drug addicts – what Bogues saw till a certain age was only bloodshed. "I have also seen a man being beaten to death with a baseball bat," he recalls during a chat to dna on Wednesday.
But the former NBA star stuck to his passions and took these incidents as examples of what not to do and the rest is history. Though he started his career with Washington Bullets, his career took shape when he joined Charlotte Hornets (1988-97).
"My father went to prison when I was 12. I was the youngest of two brothers and one sister. My mother did a lot to bring us up. These situations in life make you mature, you know whom not to follow, unfortunately my pops (father) was one of them," he adds. His father got involved in robbery and drugs.
But the kids in Baltimore were used to having one parent at home. "A lot of us did not have our fathers, that was normal for us. Such was the environment. It was a struggle against the whites as well as financial challenges. In the 1960s and 70s, it was tough to hold a family together. Lack of money got many people involved in illegal activities," he says.
After such a cowboy-like upbringing with drugs and sex around, Bogues got hooked to NBA because he found it as a way to go out of the world immersed with atrocities.
"NBA was nowhere in the vicinity. I played it as a hobby like most kids did in the colony. We played baseball and football too but I started loving basketball more," says Bogues, who also visited his father in prison after becoming a star.
"My father used to see my matches on television with his inmates. He was proud of the fact that his son was doing something good. He loved talking about me as I was getting a lot of recognition," he says.
Being short, didn't he ever get bullied by his ilks or face any obstacle? "I grew up with David (Wingate), Reggie (Williams) – renowned NBA players – and we stood by our passion for the sport. I proved people wrong and hence, height never came across as a problem. We even went to the extent of walking into our neighbourhood and cut out a milk crate to make a basket out of it where we could dunk the ball. Talking about being bullied, people did not dare to mess with an aggressive Baltimore kid," he adds.
He also spent a lot of time with the legendary Michael Jordan and has also featured in a film (Space Jam, 1996). "No one has reached his level yet. He could score more than 30 points consistently and never lacked anything," says Bogues of Jordan.
However, he feels the Indians have every potential to break into the NBA. "What they need is the correct information about the process and professional training. We are trying to infiltrate Asia and bring good coaches," says Bogues, who as a kid used to climb up to the 10th floor of his apartment instead of using the elevator just to stay fit.
Charlotte Hornets have revamped and thrown their hat in the ring as New Orleans Pelicans, much to the delight of Bogues, who never felt attracted to big guns like Los Angeles Lakers or Chicago Bulls. Hornets was family to him.
Know Bogues
Nationality: American
Height: 5 ft 3'
Age: 49
NBA teams: Washington Bullets (1987-88), Charlotte Hornets (1988-97), Golden State Warriors (1997-1999), Toronto Raptors (1999-2001)