With the World Cup looming, Anil Dias and Adit Ganguly go jersey-hunting. From 'fake' Rooney shirts in Khar to 'semi-original' ones of Messi in Colaba to 'showroom' pieces of Neymar, they see it all...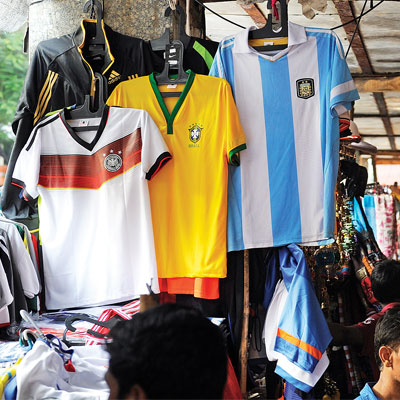 It's that time of the year — this 'phenomenon' occurs once every four years, actually — when fans across the world break their piggy banks, pick up the loot and rush to the nearest apparel store to buy the jersey of the team they plan to support at the FIFA World Cup.
Not surprisingly, the city's football-crazy fans are in 'shopping' mode already. And luckily for them, the 'market' is brimming with jerseys of all sizes. For those who want a jersey, but don't want to shell out a four-figure sum, then Prajapati Mahindra's shop, located near the Khar telephone exchange, is the ideal spot. The jerseys may not bear the Nike or Adidas logo (that's one reason why they are cheaper), but who cares when you are spending just Rs 200 for a Rooney shirt.
"Kids living in slums will be watching the World Cup. They want to wear a Ronaldo or Messi shirt. They can't go to a showroom, can they? And this is not a 'rich versus poor' debate. For Rs 3,000 (the average price of an 'original' jersey), a rich kid can pick up 15 from my shop. Won't that make him happy?" reasons Mahindra, who has been selling jerseys for the past five years. "The shirts are made and printed in Kurla and Chakala. We're always ready to give the customer what he wants," adds Mahindra, who sells at least 50 such shirts every day.
Let's talk about the price range of 'semi-original' jerseys. Costing anywhere between Rs 500 and Rs 1000, these are better than the ones sold at Mahindra's shop. For starters, they carry the Nike 'swoosh' or the 'three stripes' of Adidas.
Ashok Kumar Gupta, who sells such shirts at Colaba Causeway, has his own story to share. "World Cup is the best time for us. We sell 20-30 jerseys a day. This time, surprisingly, Portugal jerseys are in huge demand. This has got to do with Cristiano Ronaldo's popularity. Also, the jersey looks very good. Apart from Portugal, people buy England and Germany. Brazil, as usual, is popular. Even foreigners come to our shop. In fact, we have them to thank for 30 per cent of our sales," he says.
These 'semi-original' jerseys also bear the team crest. According to enthusiasts, one can't really "make out the difference" between this and a 'showroom' jersey.
Then again, if you are looking for the best jersey in town, head straight to a Nike or Adidas showroom. "This is a once-in-four-years craze. We don't need to get into the price debate because the customer has made up his mind already. He wants to buy the shirt. And we are giving him the very best," says Pushpal Maity, who manages the Nike store in Khar.
Given that the tournament will be played in the spiritual home of football, it's not surprising to hear that the Seleção jersey is selling like hot cakes. "In India, the love for Brazilian football is well known. This time, everyone is rooting for them. And given that Nike sponsors their kit, we are doing good sales. England and Portugal also have a good fan base, but nothing beats the craze for Brazil's yellow jersey," says Avinash Pant, marketing director, Nike India. For the record, buying the yellow Seleção jersey ('original', of course) would cost you Rs 3,600.
Nike may be raking in the moolah, but with Adidas being the official partner of the tournament. the competition between the sportswear giants is evident. "Let's not forget the number of Germany fans in Mumbai.
Their jersey is in huge demand. So much so that fans have been buying the team's tracksuits because playing shirts have been sold out," says Azhar Shaikh, store manager of the Adidas showroom at Khar. Besides the jerseys, Adidas also plans to pip Nike through it's new range of shoes and, of course, Brazuca — the official ball of the 2014 FIFA World Cup. "A Brazuca will cost you Rs 7,500. But it's something that fans want to own. Kids play a lot of football these days and when they see the likes of Messi, Suarez wear a certain boot, they want to wear it too. People think that football merchandise is all about the shirt. It's also about the shoes," Shaikh adds.
Kedar Patil, an engineering student, supports Cristiano Ronaldo's Portugal. "A die-hard fan would never buy a fake jersey. If he can afford it, he will see to it that he owns the shirt of his favourite team. The World Cup comes once in four years. We cherish the shirt as much as we cherish the tournament," says Patil.
Some others don't acre about the World Cup. "Given a choice, I would rather spend Rs 3,500 on a Manchester United jersey than a German one," says Rishabh Wadhwa. Why? "Because we watch the Premier League week in, week out. Yes, the World Cup comes every four years, but what do we do once it's over. There's club football to fall back on," Wadhwa reasons.
MONEY MATTERS
Rs 200
Cost of a 'fake' jersey
Rs 500-Rs 1,000
Cost of a 'semi-original' jersey, with logo and team crest
Rs 3,600
Price of an 'original' Brazil jersey (Nike
WHO WEARS WHAT?
Nike
Brazil, England, France, The Netherlands, Portugal, Greece, USA, Australia, Croatia, South Korea
Adidas
Argentina, Nigeria, Bosnia and Herzegovina, Russia, Colombia, Mexico, Spain, Japan, Germany
Puma
Uruguay, Italy, Ghana, Chile, Switzerland, Ivory Coast, Cameroon, Algeria
Marathon Sports
Ecuador
uhlsport
Iran
Lotto
Costa Rica
Joma
Honduras
Burrda Sport
Belgium