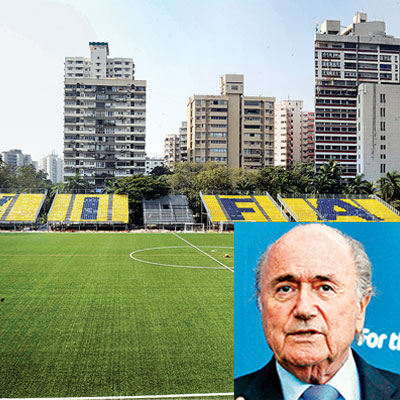 FIFA president Sepp Blatter will inaugurate the refurbished Western India Football Association (WIFA) Ground — known to one and all as Cooperage — later this year (probably in April). The iconic ground, located in Colaba, has not hosted an I-League game in over three years now. All that is set to change now.
Confirming the news, Henry Menezes, chief executive, WIFA, said Blatter, president of the game's global body, will inaugurate the new-look Cooperage which may also host a few matches of the 2017 FIFA Junior World Cup. "Blatter will inaugurate the renovated Cooperage Ground which is almost ready except for some minor works," said Menezes. "We are sure that we will have a couple of matches at Cooperage this season," All India Football Federation (AIFF) chief executive Sunando Dhar informed.
Situated on Maharshi Karve Road in south Mumbai, the Cooperage Ground has witnessed many a classic game. But because it was closed for renovation, the city and its football-crazy population was deprived of competitive football since the 2011 season.
What's more, elite teams representing the city — Mumbai FC, Air India and Mumbai Tigers — have no ground to call their home. A whole lot of issues, ranging from the ground's 'heritage' status to BMC-related complications, delayed the project. "Everything has been sorted now. The ground is ready. We just need to a make a few cosmetic changes," Menezes added. Mind you, Menezes had made such statements in the past too. But this time, he can be trusted.
The ground was expected to host the marquee 'Maharastra Derby' clash between Mumbai FC and Pune FC on March 1. But it had to be shifted to Pune. "We had to do so as the ground wasn't match-ready," Dhar said.