Atletico striker indicates he will see out season in Spain. Barcelona's Villa remains on English clubs' wishlists.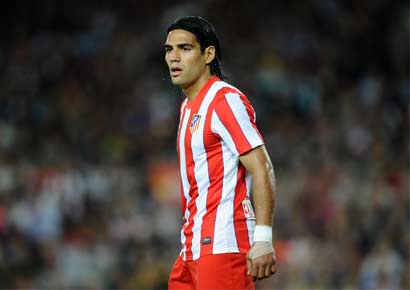 Radamel Falcao, Europe's most sought-after striker, has given the clearest hint yet that he expects to see out the season at Atletico Madrid after speaking of his ambitions for the club during the rest of the campaign.
Chelsea and Manchester City are closely monitoring the availability of Falcao, who has a pounds 48?million buy-out clause, but the feeling in Spain is still that he will be sold at the end of the season rather than in January.
Falcao has been back in his native Colombia over Christmas and, at a ceremony in which he received a special 'Citizen Award', he spoke of his gratitude towards Enrique Cerezo, the Atletico owner. "I recognise the great effort Enrique Cerezo has made for me to stay at the club," said Falcao. "And thank goodness our sporting results have been positive. We expect that to remain so until the end of the season."
Falcao has scored 20 goals so far this season in only 16 games, including a hat-trick in the European Super Cup game against Chelsea.
It is understood a representative of Roman Abramovich, the Chelsea owner, has held talks with a view to acquiring either Falcao or Real Madrid's Gonzalo Higuain, while Roberto Mancini, the City manager, is believed to have met with Jorge Mendes, Falcao's representative. Real Madrid are also expected to make an offer at the end of the season.
Chelsea, as well as Arsenal, have been tracking David Villa although Barcelona would only consider an exceptional January offer for Spain's all-time record goalscorer.
Villa is out of contract in 2014 but Barcelona are reluctant to weaken their squad at this stage of the season. According to sources in Spain, Barcelona would only countenance the loss of Villa if a bid came in that was simply too good to refuse for a player who is 31 and will enter the last year of his contract next summer. Arsenal would be highly unlikely to pay more than pounds 8?million for a player over the age of 30.
Chelsea, who also have a longstanding interest in Bayer Leverkusen striker Andre Schurrle, would prefer a loan deal and could further add to their attacking options by recalling Romelu Lukaku from his loan spell at West Bromwich Albion.
Arsenal's attempt to add a striker next month has been complicated by the decision of Klaas-Jan Huntelaar to extend his contract at Schalke.
Demba Ba, who has a pounds 7?million release clause at Newcastle, is another option for Chelsea and Arsenal. Alan Pardew, the Newcastle manager, warned yesterday that Ba would be sold during the summer if he does not sign a new contract.
Newcastle made a final offer last month, which was ignored by the striker and his representatives. Ba's people have been touting the player around Europe's major leagues for the past 12 months, but have not found anyone willing to offer him the five-year, pounds 83,000-a-week deal he wants.
"I think the decision will be made in January whether he stays or goes," said Pardew. "If he goes in this window it will cause us a problem, but I think he'll stay. I won't let it run into the summer. We'll either move him on or secure him in the summer."
Ba will have the opportunity to impress Arsenal tomorrow when Newcastle visit the Emirates.
Arsene Wenger's side will be boosted by the return of Oliver Giroud and Tomas Rosicky after sickness. Abou Diaby is due to return to training for Arsenal next week.