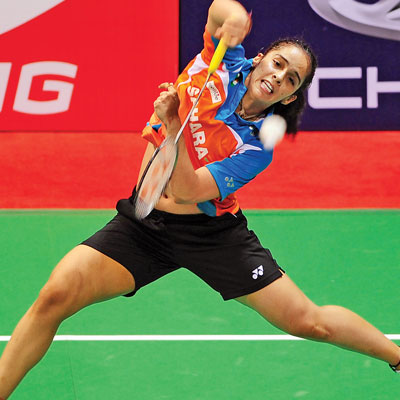 The mood in the Indian camp here on Friday was in stark contrast to the celebration the previous day after Jwala Gutta and Ashwini Ponnappa helped India enter a historic Uber Cup semifinal.
It was curtains for Saina Nehwal & Co. as the Indian women went down to superior Japan 2-3 in the last four and had to be content with a bronze medal.
After Saina Nehwal and PV Sindhu won their singles against Minatsu Mitani and Sayaka Takahashit, respectively, to give India a 2-0 lead, a historic maiden entry to the final was just one win away.
But, Jwala Gutta and Ashwini Ponnappa, ranked 36th in women's doubles, went down fighting to world No. 4 Misaki Matsutomo and Ayaka Takahashi 21-12 20-22 16-21 to let Japan pull one back.
The third singles was an easy affair for Japan as world No. 16 Eriko Hirose proved to be too strong for the Indian world No. 65 PC Thulasi. Hirose won 21-14 21-15.
At two-all, it all boiled down to the second doubles clash. Saina and Sindhu could not replicate their singles victories collectively as a doubles pair. They went down to world No. 5 Miyuki Maeda and Reika Maeda 14-21 11-21.
Results (SF): Thomas Cup: Japan bt China 3-0, Malaysia bt Indonesia 3-0; Uber Cup: Japan bt India 3-2 (M Mitani lost to S Nehwal 12-21 13-21, S Takahashi lost to PV Sindhu 21-19 18-21 24-26, M Matsutomo/ A Takahashi bt J Gutta/ A Ponnappa 21-12 20-22 21-16, E Hirose bt PC Thulasi 21-14 21-15, M Maeda/ R Kakiiwa bt S Nehwal/ PV Sindhu 21-14 21-11), China bt Korea 3-0