If purchased, Sandhu could become the first Indian to play in the English Premier League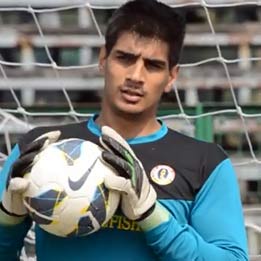 Former goalkeeper coach John Burridge has tipped his Indian protégé Gurpreet Singh Sandhu to become the first Indian to play in the English Premier League (EPL) after the 22-year-old from Punjab signed a three-year deal with Norway's Stabaek last week.
"Gurpreet will become the first Indian to play in the EPL," Burridge told Gulf News. "Both Everton and Wigan Athletic are interested in him, he just needs to get the work permit.
"If he breaks into Stabaek's first team and plays regularly, which he will, by rights he should become India's first choice keeper. Provided politics don't get in the way and India play him, he has got a great chance. He can be a fantastic keeper."
Former Manchester City and Newcastle United keeper, Burridge, 62, was influential in taking Wigan Athletic and Oman keeper Ali Al Habsi to Norway's Lynn Oslo in 2003, until he earned enough caps to qualify for a British work permit. He now intends to do the same with Sandhu.
Sandhu started his career with St Stephens Academy before going on to play for East Bengal and Pailan Arrows. He has represented India at Under-19 and Under-23 level and has made one senior team appearance. Last year he spent one month on trial at Wigan Athletic.
"At six foot five inches he makes Al Habsi look small," added Burridge. "He kicks the ball from box-to-box from the floor and throws it like a spear. I first saw him play in the Calcutta derby aged 19 in front of 110,000 people. I have absolutely no doubt about him, he has the mentality to succeed and wants it desperately."
Former Oman, Al Ain and Al Wasl keeper coach Burridge, who now works for the Singapore national team said he still hasn't given up hope of getting an Emirati keeper in Europe after doing it for Oman and India.
"I've done it for two countries now but it could have been three," he said. "I got Dida [Ahmad Mubarak] a month-long trial at West Ham United but instead he joined Al Ahli from Al Wasl.
"It's a shame because he was good enough to make it. Al Wasl were on 17 points when he left and they ended last season on 25. They only made eight points in the last half of the season and of their earlier 17, Dida had saved them 14. Without an unbelievable first half of the season from Dida Al Wasl would have gone down."