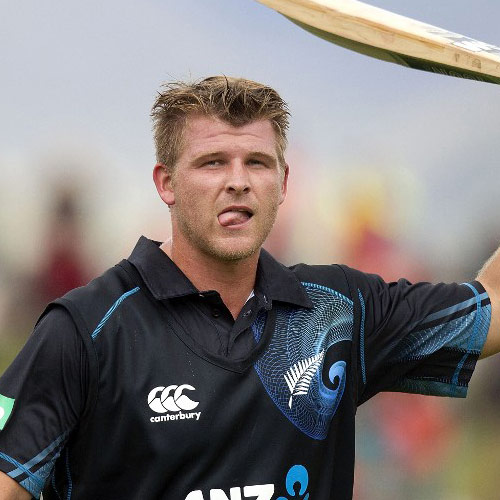 World cricket's latest poster boy Corey Anderson could be among the hot-picks at the players's auction for the seventh edition of the Indian Premier League (IPL) here Wednesday.
The New Zealand all-rounder came into the limelight with a record 36-ball ODI century against the West Indies at home last month. Anderson, surprisingly, has kept his base price low at Rs.1 crore while prominent names like Kevin Pietersen, Yuvraj Singh, Ashes hero Mitchell Johnson, Mike Hussey and Virender Sehwag are in the top bracket with a base price of Rs.2 crore.
Anderson impressed with his performance against India as well with both bat and ball. He had scores of 68 not out, 44 and 8 in the three ODIs and also picked up 10 wickets, including a five-wicket-haul.
For England discard Pietersen, it will be chance to resurrect his international career after selectors dropped him from the squad for the World Twenty20. With no international commitments in singh, Pietersen is likely to be available for the entire duration of the tournament.
Another cricketer, who will be trying to following the footsteps of Pietersen is India's Virender Sehwag, who has been completely sidelined by the selectors. Sehwag, one of the most destructive cricketer in world cricket, has been struggling with form and was also not retained by Daredevils.
Another cricketer, who could get a good deal is Australian Alex Hales, who is currently the No.1 ranked batsman in Twenty20 internationals.
The auction list of 514 players features 219 capped players (169 Indians and 50 overseas players) and 292 uncapped players (255 Indians and 37 overseas players). There are 16 marquee players and they have been divided in two sets of eight each. There are 30 players, including 11 Indians, with a maximum base price of Rs.2 crore (US $320,000 approximately).
List of marquee players:
1. Mahela Jayawardena (Sri Lanka) Rs.2 crore
2. Mitchell Johnson (Australia) Rs.2 crore
3. Jacques Kallis (South Africa) Rs.2 crore
4. Kevin Pietersen (England) Rs.2 crore
5. Virender Sehwag (India) Rs.2 crore
6. Yuvraj Singh (India) Rs.2 crore
7. Murali Vijay (India) Rs.2 crore
8. David Warner (Australia) Rs.1.5 crore
9. George Bailey (Australia) Rs.2 crore
10. Faf Du Plessis (South Africa) Rs. 1.5 crore
11. Michael Hussey (Australia) Rs.2 crore
12. Dinesh Karthik (India) Rs.2 crore
13. Zaheer Khan (India) Rs.1 crore
14. Brendon McCullum (New Zealand) Rs.2 crore
15. Amit Mishra (India) Rs.2 crore
16. Darren Sammy (West Indies) Rs.1 crore